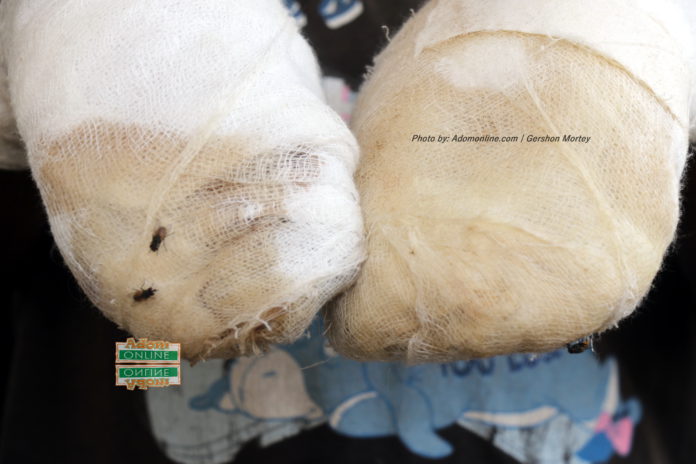 A 62-year-old man who allegedly dipped the hands of a 6-year-old boy under his guardianship into boiling water is currently in the grips of the Amasaman Police.
The boy, whose fingers are rotting away, was living under the guardianship of his uncle who physically abused him by dipping his hands into hot water before locking him up in an uncompleted building.
Narrating the incident on Adom FM's morning show Dwaso Nsem Monday, Richard Frimpong, the Good Samaritan who rescued the child from his confinement explained that the boy's claims he stole fish from a pot of soup he (the Uncle) had prepared.
ALSO READ
Richard, however, suspects that the boy's decision to steal from the pot of soup could be due to hunger.
"When he found out about the boy's conduct, he cut the branch of a tree, whipped the little boy's fingers – on both hands – until they became sore," Richard narrated.
"Upon realizing that the fingers had gotten swollen, he boiled water and forcefully dipped the boy's fingers in it till the boiled water cooled off," he said.
The 6-yr-old boy who has lost his mum currently lives under the guardianship of his uncle in Manhea in the Greater Accra Region.
The Amasaman Police Command has since commenced investigations into the incident.