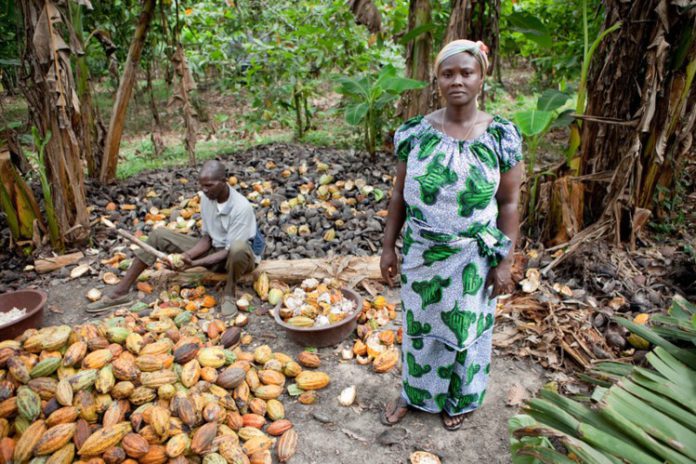 Some cocoa farmers in the country have expressed disappointment in the government following increment of the price of cocoa from GH¢7,600.00 to GH¢8,240.00 a tonne and GH¢475.00 to GH¢515.00.
According to them, the producer price of cocoa was not enough and would still worsen their economic welfare.
ALSO: Government increases cocoa price by 8.42 per cent
The increment in cocoa price implies 8.42 percentage increment, making it an upward review of GH¢640.00 and GH¢40.00 for a tonne and a bag respectively.
Dr Gyiele Nurah, a Minister of State at the Ministry of Food and Agriculture announced the increment on behalf of President Nana Addo Dankwa Akufo- Addo, when he addressed a durbar organised by the Ghana Cocoa Board to mark the 14th National Cocoa Day Celebration at the Jubilee Park in Sunyani.
ALSO: 4 Multimedia Group journalists nominated for WAMECA
But, Chairman for Sefwi Boako cocoa farmers, Kweku Seidu, reacting to the increment said off-farm income constituted about one-third of total gross cocoa income and therefore was an important risk management strategy for cocoa farmers providing an additional source of livelihood income.
"We are not so happy about the increment. Farmers are really struggling and so we would be grateful if they increase it to GH¢700.00. Government has not been fair to us. Yes, they have increased it but they should consider our plea as well," he told Accra based Neat FM, monitored by Adomonline.com.
ALSO: Audio: Napo denies CSE implementation
He added that it was important for COCOBOD and its related agencies to ensure equitable distribution of resources and services for all cocoa farmers.
Source: Adomonline.com | Dorcas Abedu-Kennedy