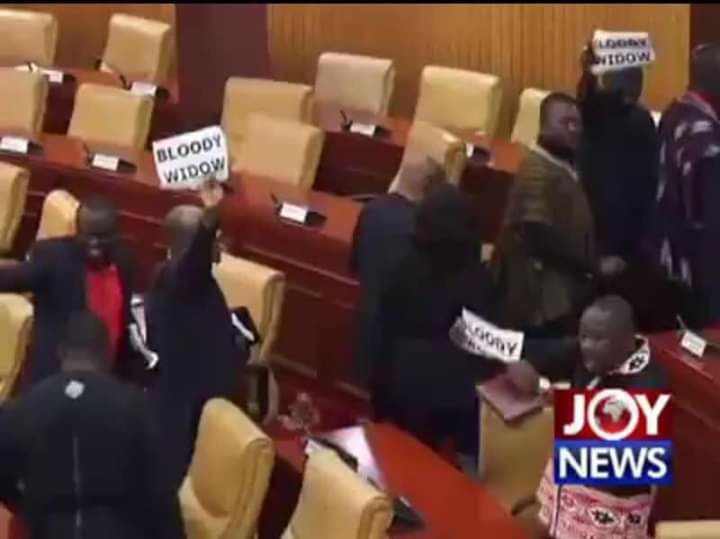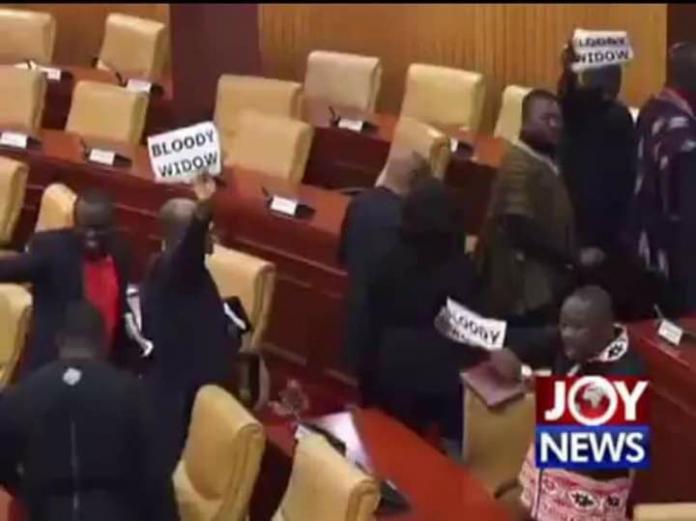 Member of Parliament for Sagnarigu Constituency has said over his dead body will the Minority in Parliament apologize to newly elected MP for Ayawaso West Wuogon, Lydia Alhassan.
ABA Fusieni stated unequivocally that, she is a "bloody; bloody widow" after benefitting from a "state sponsored terrorism".
RELATED STORY: Audio: I would've been a "bloody widower" if… Inusah Fuseini
The Minority has declined invitation to render an unqualified apology to the widow of late MP, Emmanuel Kyeremateng Agyarko for hurling placards on the floor of the House describing her in such unsavoury manner.
Though the Speaker of Parliament has ordered the National Democratic Congress (NDC) MPs to apologise for their un-parliamentary conduct, they have refused –explaining that, they have done nothing wrong.
Justifying their position on Asempa FM's Ekosii Sen programmee Wednesday, ABA Fusieni said they won't be cowed into submission.
READ: Photos: Lydia Alhassan visits Ayawaso West Wuogon shooting victims
"You cannot threaten a chief warrior with a mustache; we are gallant sons of this country so we won't allow anyone to intimidate us" he fumed.
The Sagnarigu MP stated that, the Speaker who belongs to the Majority also hurled placards with worse against former President Mahama while in opposition thus lack the moral authority to ask them to apologize.
"Look at armed robbers pontificating morals to pickpockets. We are not going to apologize today, tomorrow; forever. We have every right to disagree with the ruling of the Speaker" he added.
READ: Photos+Audio: Traumatized 17-year-old rape victim bathed with petrol
ABA Fusieni said he expected Lydia Alhassan to have rejected the election results in solidarity with the victims shot by state sponsored vigilante group.
"Can anyone exonerate this woman from the violence in the constituency? She is a 'bloody bloody' widow" he stressed.