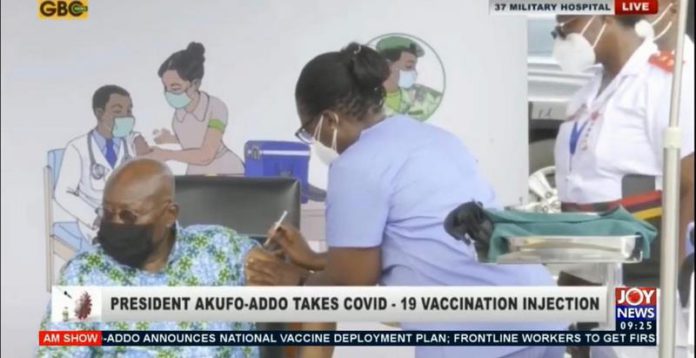 The Director-General of the World Health Organisation (WHO), Dr Tedros Adhanom Ghebreyesus, has commended President Nana Akufo-Addo for receiving the covid-19 vaccine.
To Dr Ghebreyesus, the President's leadership is key in promoting confidence in the vaccine which he described as a life-saving tool in Ghana and Africa.
Dr Ghebreyesus took to his official Twitter page to make these remarks.
ALSO READ:
President Akufo-Addo and his wife, Rebecca Akufo-Addo, on Monday successfully received the first dose of the AstraZeneca Covid-19 vaccines.
This was at the 37 Military Hospital after a brief ceremony.
The exercise was also replicated by the Vice President, Dr Mahamudu Bawumia and his wife, Samira Bawumia at the Police Hospital.
The exercise is aimed at boosting public confidence in the new vaccine procured for the citizens after weeks of debate about its safety and anticipated side-effects amid the country's roll-out plan.
This is after the government on Wednesday, February 24, 2021, took delivery of 600,000 AstraZeneca doses as part of the WHO's global vaccine-sharing programme. 
This forms part of the government's effort to vaccinate about 20 million Ghanaians against the deadly coronavirus disease.
Read the post below: