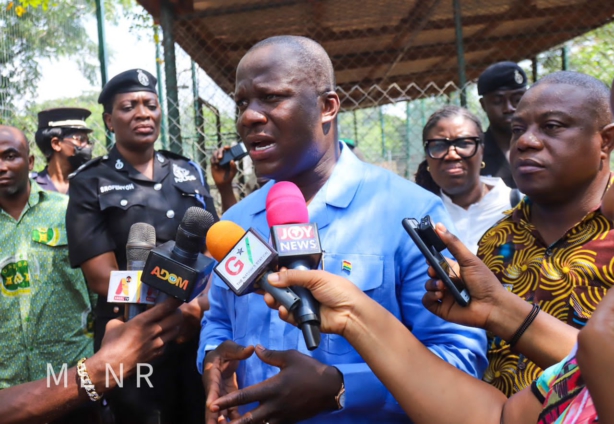 Minister for Lands and Natural Resources, Samuel Abu Jinapor, has taken a swipe at former President John Mahama over his comments that President Nana Akufo-Addo is interfering with the fight against illegal mining. 
In a Facebook post, Mr Mahama said it is unacceptable that the President has consistently put pressure on state anti-corruption institutions by announcing clearance of appointees and companies that are under investigation for wrongdoing.
Speaking at the 28th National and 16th Biennial Congress of the National Union of Catholic Diocesan Priests' Association, President Akufo-Addo said Akonta Mining which belongs to the Ashanti Regional New Patriotic Party Chairman, Wontumi is not engaged in any illegality presently. 
But in a lengthy Facebook post, Mr Jinapor indicated the comments by the President in no way relates to past or future activities of Akonta Mining, and cannot, by any shred of imagination, be deemed as exonerating the company from any past activities or interfering with any ongoing investigations.
"As it is public knowledge, the allegations of illegal mining by Akonta Mining Ltd are being investigated by state institutions responsible for such investigations, the Ghana Police Service and the Office of the Special Prosecutor.
"When I received the report from the investigations conducted by the Forestry Commission, pursuant to my directive, I forwarded the report to the Ghana Police Service, through the Minister for Interior, to assist them in their investigations," the Minister said.
ALSO READ:
Mahama shades Akufo-Addo on Akonta Mining defence
Akonta mining: Mahama's comment vague and irrelevant – Deputy Information Minister
According to him, the President is mindful of ongoing investigations and refrained from speaking on past activities of the company which are under investigations by the state agencies.
"Indeed, but for the specific question posed by the Chairman of the occasion, the President would not have mentioned Akonta Mining at all.
"I, also, want to put on record that no one, and absolutely no one, compelled me to issue the Press Statement on Akonta Mining which was issued following the allegations of their activities in the Forest Reserve. Neither has the President called any official of Akonta Mining to 'appease' them on the action taken by Government. These claims, if they were indeed made, as you suggest, are, obviously, false and a figment of peoples' own imagination," he added.
The Minister maintained he has reluctantly come out to set these records straight due to the very unfair and unfortunate manner in which Mr Mahama has attacked the unblemished reputation and integrity of the President, his successor.
Below is the full post: