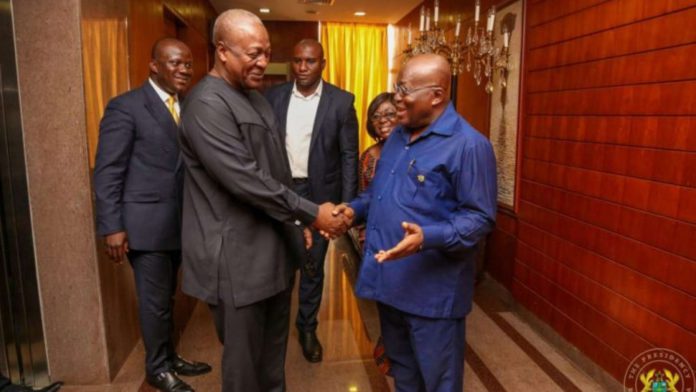 Former President John Mahama has asked Nana Akufo-Addo to end his penchant for clearing his appointees and his close associates said to be involved in illegal activities.
He said the behaviour of the President is untoward and thus advised him to desist from same.
According to him, President Akufo-Addo has assumed a dishonourable badge, "the clearing agent."
The former President in a Facebook post on Tuesday said the forum at which President Akufo-Addo defended Akontab Mining is shocking.
"It is unacceptable that President Nana Akufo-Addo has consistently put pressure on state anti-corruption institutions by announcing clearance of appointees and companies that are under investigation for wrongdoing.
"That penchant by the president to absolve his appointees and other close associates of any wrongdoing as he has done with the ongoing investigations into the operations of Akonta Mining Company is a serious dent on the already deteriorating image of the Office of the President," he posted.
According to the President, the firm is not engaged in any illegality presently.
"I want to assure you all that Akonta Mining is not engaged in any form of illegal mining anywhere in Ghana as we speak," President Akufo-Addo stated.
This has generated widespread criticism for the President.
Some Ghanaians have already said the President's defence could temper with investigations into the company's activities.