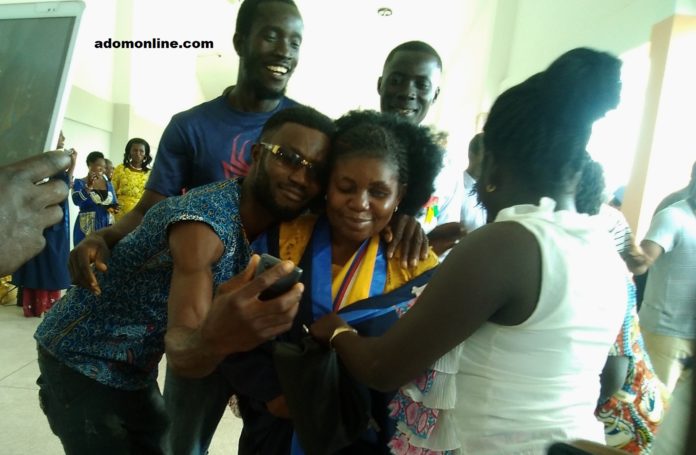 The 36-year-old visually impaired woman, who was dumped by her lover while pregnant, is living her dream of becoming a teacher.
Adiza Nyankey, who had resorted to begging to cater for herself and her baby, was among 1,851 students who graduated from the University of Cape Coast (UCC) over the weekend.
The 1987 Year Group of Okuapeman Senior High School (SHS) sponsored her to pursue tertiary education following an Adom News report on her plight four years ago.
ALSO: GES applauded for 'tactical retreat' over 'Comprehensive Sexuality Education'
The fairy tale of how Miss Nyankey got attracted to and fell in love with a man who is also visually impaired, ended in 2015 when she was ditched by her lover.
They had met and lived together from 2007, with plans to get married.
The man, who persistently impressed upon Adiza to get pregnant for him, later denied responsibility when the woman finally took seed.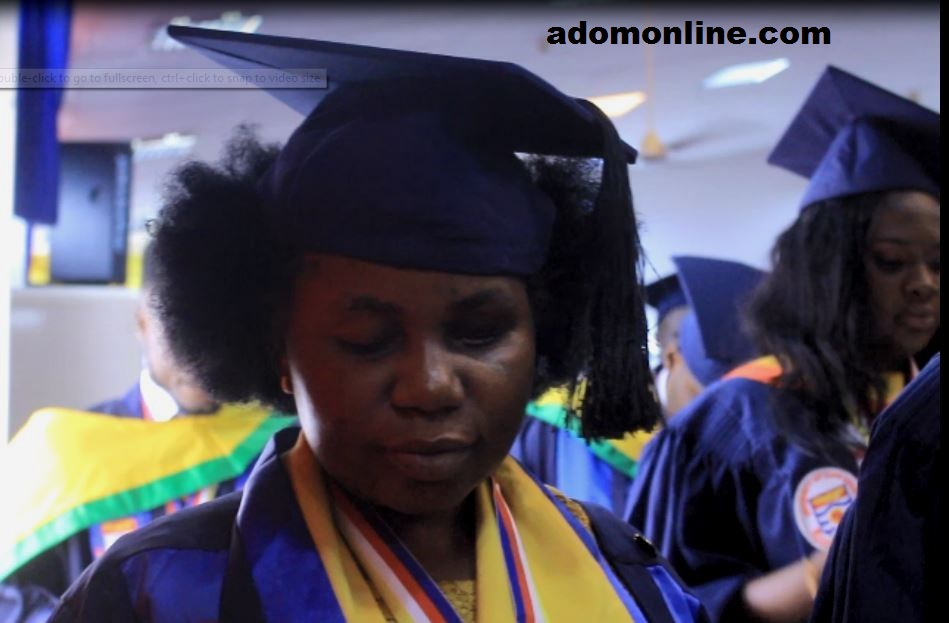 His fear, according to reports, was that they could potentially give birth to yet a visually impaired child.
The Okuapeman Senior High School Old Students Association's 1987 Year Group intervened after Miss Nyankey shared her story on 'Emotional Rescue' on Luv FM as well as other networks under The Multimedia Group – JoyNews TV, Joy FM, Adom TV and Adom FM.
Four years on, she found herself and other graduating colleagues emotionally charged inside the NEC Auditorium at the UCC in the Central Region capital, Cape Coast.
ALSO: Audio: Afrikania Mission blasts Catholic Bishops over controversial CSE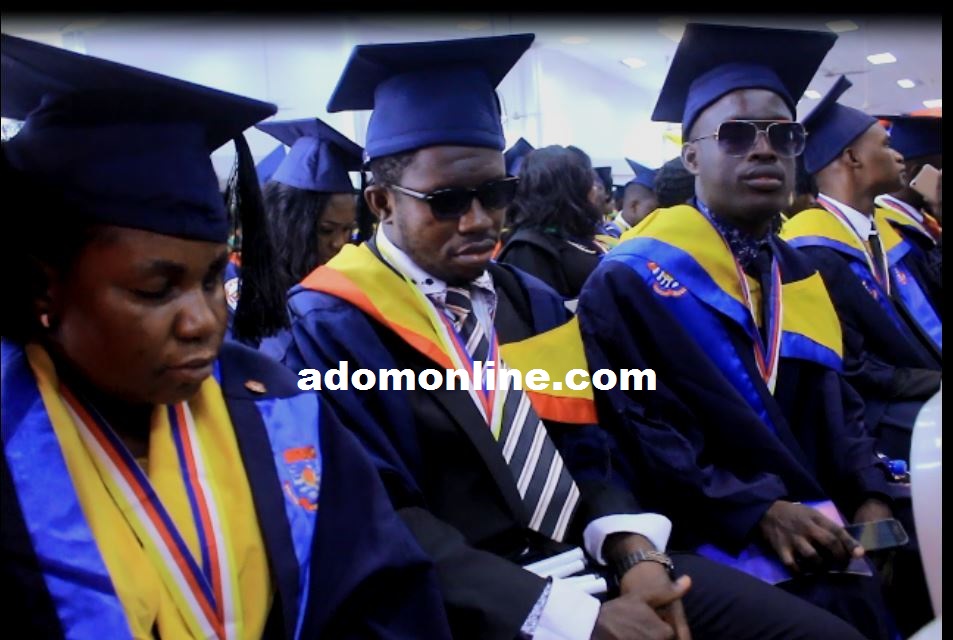 "You have to chase everything that goes on as your sighted colleagues would be doing it. For instance, you have to get on-board exactly when it is time for lectures. Sometimes there wouldn't be water flowing in the pipes for you to fetch and bath. But, you have to go and search for it the same way your colleagues with sight are doing," she recounted some of the challenges she had had to overcome along the way.
"Sometimes, you have to do research. With some of us who use the braille, you don't get the right information on braille so you have to contact your course-mates…," she added.
ALSO: Listen: Our sexual lives haven't been bankrupt without sex education – Bernard Mornah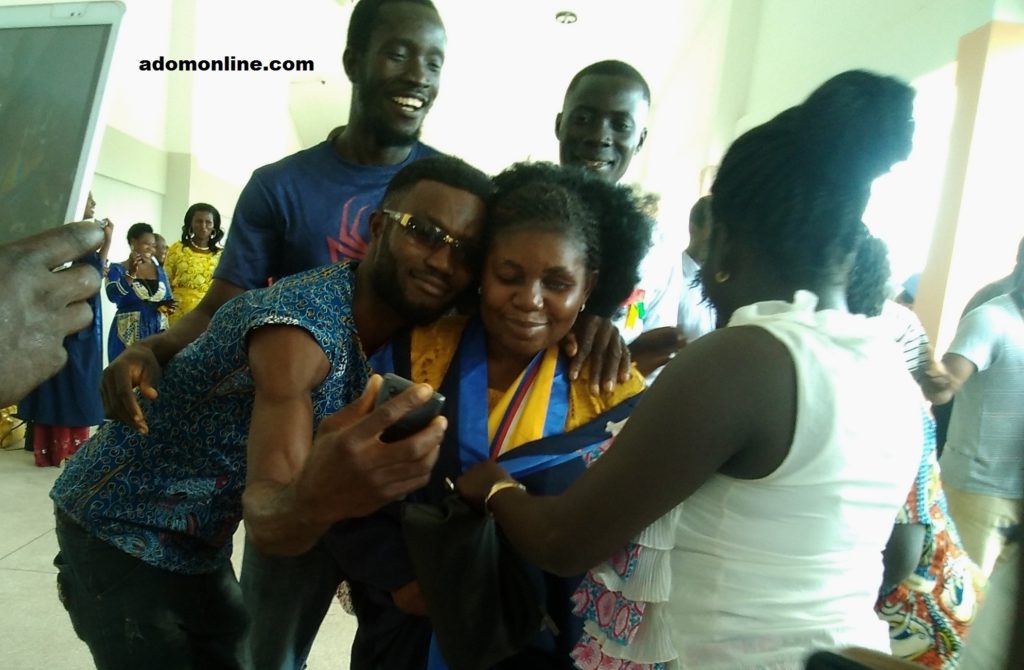 Miss Nyankey, who is full of praise to The Multimedia Group and the 1987 Year group of Okuapeman SHS for the support, promised to give back to society through teaching.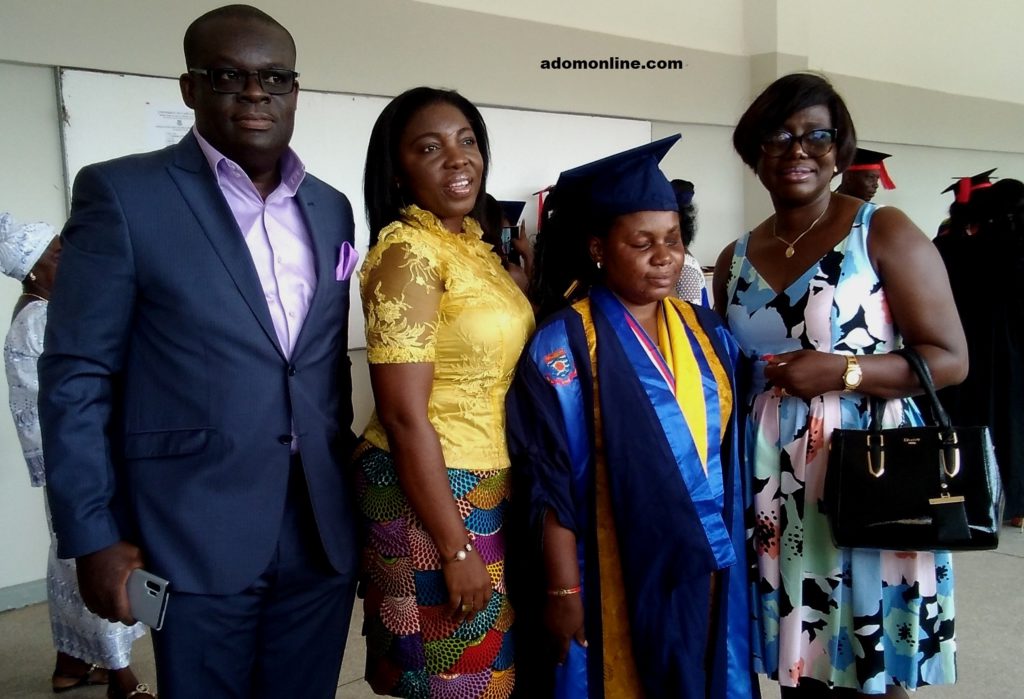 Miss Nyankey's benefactors, led by President of the group, Michael Adjei-Gyan, were present to mark the occasion with her. The group has already spent over GH₵35,000 on the project.
"When you broke the story and we heard about it and the fact that she went to Okuapeman School and had gained admission to the University of Cape Coast, we said 'well, she cannot continue to beg. We have to teach her how to fish instead of giving her fish. So that is what motivated us to come together to help," Mr Adjei-Gyan explained.
ALSO: I had enough cash before I joined Zylofon Media – Becca
A lecturer at the Department of History at UCC, Kwame Agyei Agyapong described Miss Nyankey as an exceptional student.
"Adiza is a very serious student. She read my first course [History of medicine] at Level 300 and she answered a question in class very beautifully and so from then, I started calling her 'Adiza, the Great'," Mr Agyapong recounted.
Source: Ghana | Nhyira FM | Ohemeng Tawiah | ohemengtawiah@gmail.com