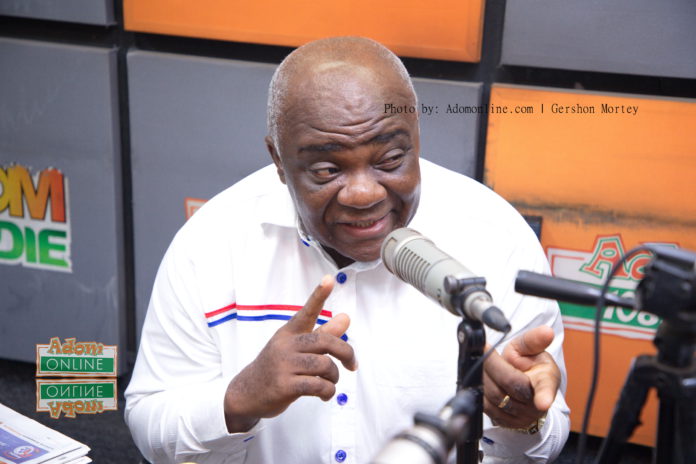 Flagbearer hopeful for the New Patriotic Party (NPP), Francis Addai Nimoh, has alluded to a conflict within the party, threatening unity among the rank and file.
According to him, the disunity in the NPP could adversely affect the party's goal of "breaking the eight" in the 2024 elections.
"If we're going to successfully break the eight, there are three things we must resolve, and the first is our unity. Whoever claims the unity of the party is currently in good standing tells a lie. The party is made up of individuals who have come together and agreed to form one party, and these are the rules that regulate the party.
So today, if I develop bad intentions against you, nothing you do will impress me, and if another person develops ill intentions against me, nothing they do will impress me. This would mean that we hold grudges against each other, and if unity were to prevail, we would need to do away with all grudges. To be able to remove all grudges, we need justice. Justice is what will bring unity," he said.
The former Member of Parliament for Mampong emphasised that, a united NPP could win the upcoming presidential elections.
He explained, "If we're going to break the eight, we need a unique factor, and that factor is for unity to be of utmost importance to the party. We should not regard any vote as unessential because the national constitution states that you need 50%+1 valid votes for a party's candidate to win."
Speaking to Nhyira FM's Obidehyie Ofori Amanfo on Kuro Yi Mu Nsɛm, he stated that, government's work must positively influence the people.
"What we need is government performance. This will be evident in the lives of the people, the nation's finances, and living conditions," he added.
Mr Addai-Nimoh pointed out that, the NPP will lose the 2024 election if they chose the wrong candidate.
"Who are we presenting as our chosen leader, and who are we sending to the Ghanaian market?" he questioned.
"When taking a product to the market to sell, it must be of the best quality. As we sit here, if you wanted to go and buy food, be it oranges or bananas, and found that there were spots on it, wouldn't you ask questions? You want to know how they came to be spotted, and if you're not pleased, you won't buy them," he stated.
Mr. Addai-Nimoh added that, "Anyone who wishes to make a purchase looks out for the quality of the product to satisfy their specifications so even if it is bought at an expensive price, it is no problem. So for the NPP, we must ask ourselves who we wish to take to the Ghanaian market whose sale will not be problematic."