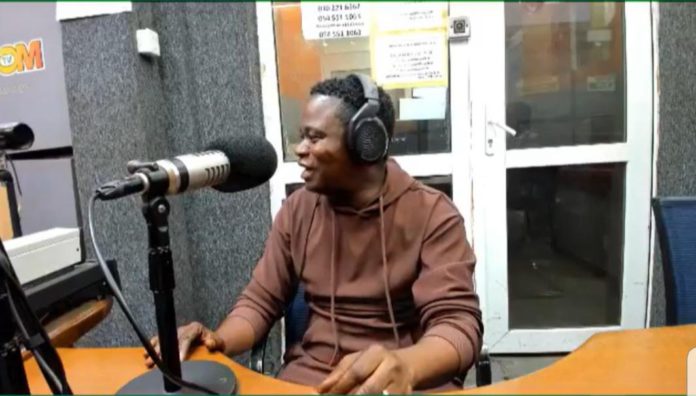 Veteran gospel musician, Great Ampong, is set to release his much anticipated studio album later this year in Accra and Kumasi.
The 13-track project is Great Ampong's 17th album since he started doing music professionally in 1996.
Among it is Aseda, Counter Attack, Alpha, Mame Dondo, Onyame Akatua, Style Bia Bi and Gyata Beri Talia.
In an interview on Adom FM's drive show, Ofie Kwanso hosted by Jerry Forson, the talented singer said he is particularly excited for this project since it echo's his undying relevance in the music industry.
Currently, he is getting financial benefits as well as fame born out of his talent, but that was not the case when he began music.
He narrated that his journey to being one of the most decorated gospel musicians came with blessings, and of course bitter lessons.
Great Ampong joined the music scene after his 'galamsey' job was no longer lucrative. He decided to test waters in the gospel ministry but it seemed to be another trip to hell in the initial stage.
He was almost losing hope when he was introduced to music producer Bandex who was reluctant to help at first, but that notwithstanding, he presented 15 of his songs for hearing.
"I almost quit but the late Comfort Annor motivated me to keep trying. I really wanted to do music and at that time so when a friend told me Bandex wanted a strong artiste to work with, I decided to try my luck. I already had 15 songs so I burnt three on a CD and headed straight to his office. When I presented it to him, I did not pitch too much, I only told him God said I should work with you this year."
Bandex accepted the copy and promised to get back, but five months of silence passed before he received the much expected call.
According to Great Ampong, Bandex loved his song so much that he selected eight out of his 15 songs and they immediately got to work.
Like he had expected, his songs were a banger and he soon became a household name.
They went on to produce 16 more albums together, and the latest one will be launched after the Easter period.
Speaking on the blessings, he said he has enjoyed solid money from doing music.
"I have made a lot of money from doing music. I will be a hypocrite to say I have not benefited from my talent. The money I have made collectively can fill up this studio. I am still making money since I am being booked for shows. I am one of the busiest gospel artistes; be it funeral, weddings, parties, events, I am everywhere."
However, he did not deny there have been lessons in his journey, including financial indifferences like the one he experienced with legendary Daddy Lumba.
He has learnt that talent is not all it takes, but the blessings from God and connections with the right people.