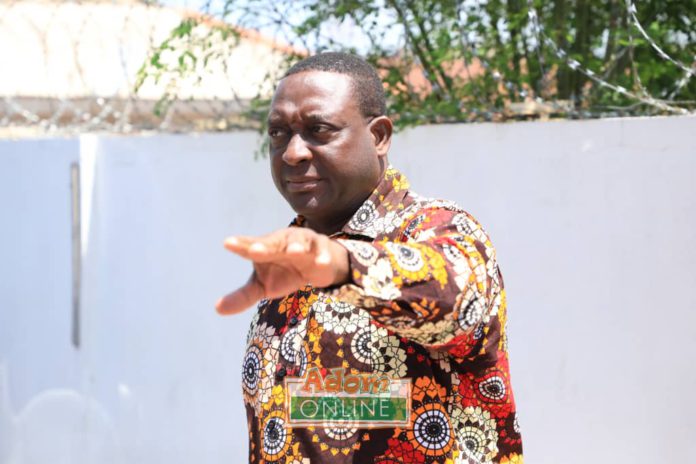 A former Director of Communications for the New Patriotic Party (NPP) and spokesperson for Alan Kyerematen's campaign team, Yaw Buaben Asamoa, has brought to light an incident involving Madam Mary Agyemang, the NDC Women's Organiser at Kumawu.  
Mr Asamoa disclosed that he encountered Madam Agyemang during the Kumawu by-election at the palace, where she was wearing NDC t-shirts despite being seen at the chief's palace when Mr Kyerematen was present.
Recalling the encounter on Adom FM's morning show Dwaso Nsem, Wednesday, Mr Asamoa said, "I asked her what she was doing there, and she told me she came because of Alan.
"She mentioned that if they agree to vote for Alan as the flagbearer, she will vote for Alan."
He further recounted that Madam Agyemang informed him that she had named her child Alan and expressed her intention to support him in the primaries, even though she is a member of the NDC.
Mr Asamoa noted that a video of this interaction had been circulated widely, making the incident public.
As rumours circulated about her dismissal for supporting Mr Kyerematen, she clarified her position in an interview on the same show, dismissing the reports.
"I have not declared my support for Alan."
She emphasised that her real name is Mary and not Akua Afriyie, as mistakenly reported.
Madam Agyemang stated that she has held the position of women's organiser for the NDC at Kumawu for years and has not been dismissed.
The confusion appears to have arisen due to mistaken identity with another NDC member, Madam Akua Afriyie.
Madam Agyemang expressed her intention to approach Akua Afriyie to question why she had given media interviews claiming that she, Mary Agyemang, had been sacked as the NDC women's organiser.
ALSO READ: