University of Education, Winnebago (UEW) has dismissed Nigerian English lecturer, Prof Augustine Uzoma Nwagbara, who was with the university's department of Applied Linguistics over what the university described as unsavoury and unethical comments about Ghana and its educational system.
A statement signed by the Registrar of UEW, said "the university has taken a very serious view of the video which has circulated on social media involving the professor and totally wishes to disassociate itself from the grossly irresponsible comments and condemns it in no uncertain terms.
ALSO: HIV prevalence increasing among pregnant women – Report
"The university apologises to Ghanaians for Prof. Nwagbara's disparaging remarks about this country's educational system and further indicates that the comments were full of inaccuracies."
ALSO: Ghana's economy expands 6.7 per cent in first quarter of 2019
Prof. Nwagbara was arrested on Tuesday afternoon by the Ghana Police over a viral video in which he was allegedly heard inciting the Nigerian Community in Ghana to devise strategies to destroy the country's image.
In the video, he was seen in a meeting with some Nigerians in Ghana and implored them to use the Nigerian media to destroy Ghana in the eyes of the international community through negative reportage.
Below is the full UEW statement: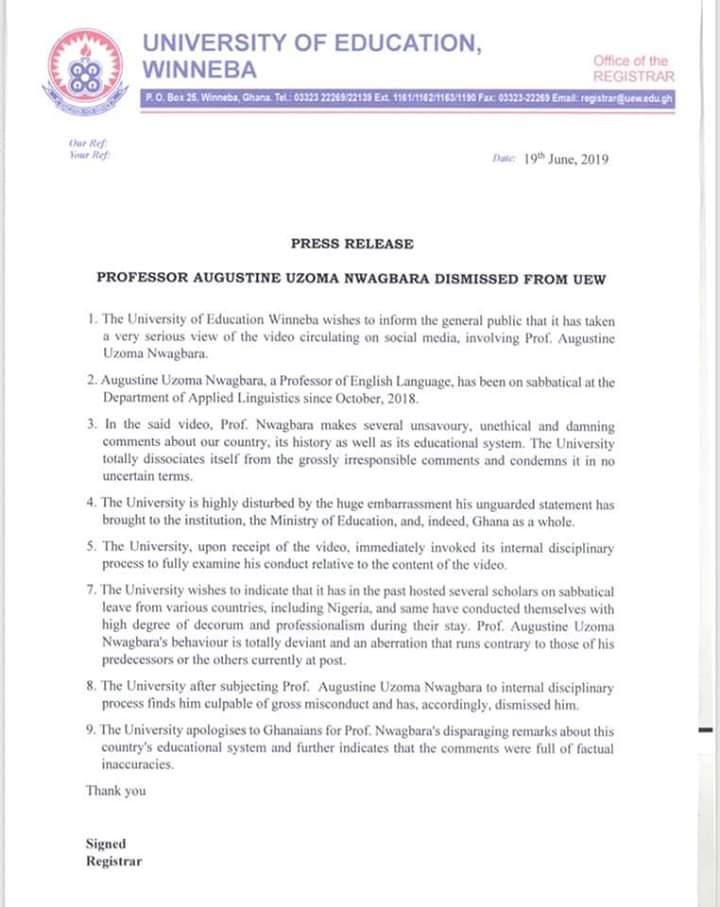 Source: Adomonline.com