Actress Yvonne Nelson has taken to Tweeter to curse her colleague actress, Victoria Lebene for a crime she did not necessarily commit herself.
Lebene's only offence is going to her husband's defence by for his decision to poke his nose into Yvonne's marital issues, an act the latter has taken serious issues with.
In a series of tweets, Yvonne has called out Lebene's husband, Eugene Osafo-Nkansah, for disrespecting her person in a post he made on his social media page.
Readers would recall that Yvonne tweeted "Know Your Worth" on Monday in what many believe was in apparent reference to Cardi B's meet-and'greet fiasco.
Following the tweet, a social media user, Charles Mensah retorted: Yvonne saying "know your worth ampa, so your worth is having a baby for a married man? Wo t*e wai."
READ ALSO
Mr Osafo-Nkansah failed in getting the needed attention until Lebene's husband took a screenshot of the post and posted it on his Instagram business page with the caption, Yvonne only used three words.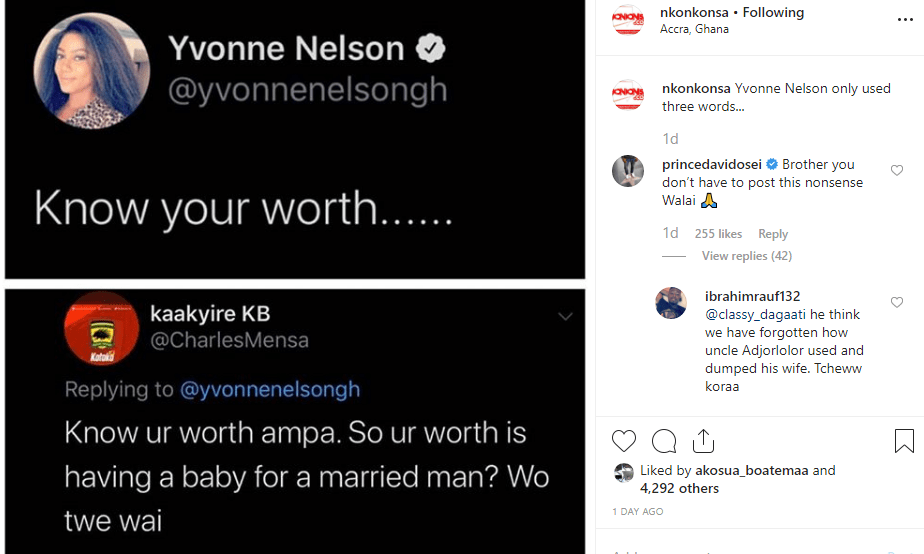 This singular action of his did not, however, go down well with the Heels and Sneakers actress who took to Twitter unleash her displeasure.
Yvonne Nelson cursed Mr Osafo-Nkansah for bringing her daughter's name into disrepute and casting negativity upon her.
"Ryn's dad was divorced when I met him… his ex-wife isn't the mother of his 2 kids! And yes he's an amazing dad to Ryn and his two kids," an angry Yvonne tweeted.
Find Yvonne's tweets below:
Victoria Lebene who was keenly observing the happenings on Twitter, waded into the conversation, leading to a total degeneration of the conversation.
Lebene tweeted: If we all decide to be opinion leaders, then we should be ready to receive others opinion, regardless the sensitivity. People's opinion cannot be controlled, that's the sad part.
Find comment below: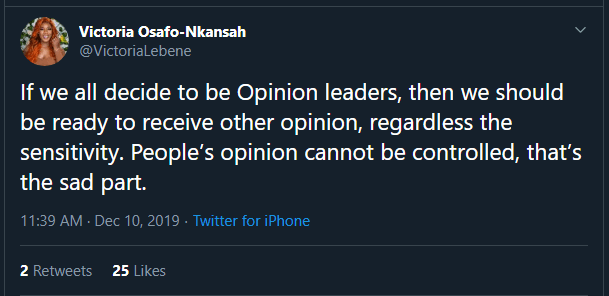 But, Yvonne will not take kindly to Victoria's comments, describing her and the husband as a "bunch of losers".
Bunch of losers! Y'all are pathetic. Someone is supporting her hubby for posting a diss, don't worry. You'll get pregnant/or is already pregnant, i pray you get treated with respect, and hope no one disrespects your baby. I pray your marriage lasts too.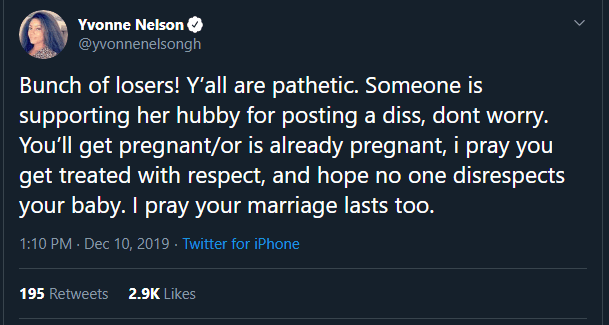 Yvonne's comments did not end the fact as came back with another subtle jab at her, insisting Yvonne has shown the world how bitter she is.