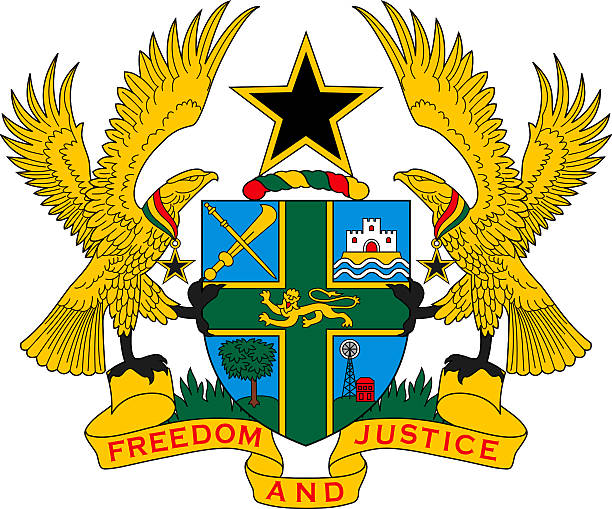 Introduction
My Lord, my name is Oman Ghana; I was born and baptized by your Grace on 6th March, 1957 as an Independent State and confirmed on 1st July 1960 as a Republican State within the Commonwealth. My name came out of the powerful Ghana Empire you blessed our continent with in the Medieval days. I am in the mood of celebration as I have clocked age sixty-six (66) this year.
Gratitude
I am one of your creatures in Africa situated in the centre of the globe with the Meridian of Greenwich running through me, thus giving me the Greenwich Mean Time (GMT) like my former colonial master, Great Britain. You placed me slightly above the Equator, thus giving me a very good weather, which is different from what the latitudes of Cancer and Capricorn would have given me. I was graciously afforded a sea coast above the Gulf of Guinea which gives an easy access to sea transportation for both my imports and exports.
Before I was christened Ghana in 1957, I used to be known and called the "Gold Coast" because of the large deposits of gold which the European explorers had found along my coastal areas which led to their struggle for me during their "Partition of Africa" in the 17th Century.
For vegetation, my Lord, you placed me far away from the Sahara and Kalahari deserts in Africa. Rather, you graciously provided me with my fair share of grassland, savanna and deep forest. With these, you provided me with appropriate foodstuffs, fruits and vegetables to feed my people and also rivers and lakes to serve as their sources of water for agricultural activities and for consumption. In addition to these are the leaves and roots that are used for healing.
Beside these, Lord Almighty, you provided me with minerals in the soil and in the sea in addition to cash crops such as cocoa, coffee, cashew, mangoes and several vegetables for export. Prominent among these minerals are gold, diamonds, manganese, bauxite, salt, and – lately – oil in commercial quantities.
All these aside, you have for centuries saved me from major disasters such as flooding and earthquakes which keep inundating several other nations unfortunately. The 1981 bush fires across my land appear to have been the worst disaster I have experienced so far. I therefore owe you tonnes of gratitude for all these blessings.
Challenges
However, my Lord, my greatest challenge comes from how the present crop of citizens you blessed me with have been failing to manage my resources to make me a truly sovereign and economically independent nation that can compare favourably with my compatriots elsewhere on the globe. Since I was declared politically independent "to manage or mismanage our own affairs", I have been rushed to the International Monetary Fund's "Medical Centre" by almost every government that has come my way.
The people whom you blessed me with, prior to my independence, were more patriotic. They fought against the colonialists' intention to annex my lands as they did in the southern and eastern parts of our continent. Some of them even shed their blood to save their territories and their regalia. Others even attacked and seized the settlements of those colonialists. Even, the fighting to get me out of imperialism with two frontal attacks – by the "within the shortest possible time" and the "now" groups was a great display of patriotism.
In the early colonial and post-independence days, I had Town and Village Development Committees chaired by the Chiefs. Their contributions earned for my Local and District Councils large incomes from "lampoo" levies because defaulters could be summoned to the palaces to explain why they should be set free from paying their "lampoo". In the same way, the chiefs could summon people to explain their refusal or failure to attend communal labour and why they should not be fined.
The present crop of my citizens are not as patriotic as their predecessors around pre-independent and immediate post-independent days. These days, most of them seem to be for themselves saying that you, God, "are for them all". They simply refuse to obey the laws of the country and destroy my environment, water bodies and vegetations through illegal mining which they shamefully call "galamsey".
Constitution
My Lord, I attribute this attitude of my citizens partially to the "Winner-takes all" constitution they have accepted for me. It gives the greater portion of the goodies available to the election winner because of the wide-ranging powers of appointments given to my Presidents by the constitution which includes – in most cases – in consultation with the Council of State, the majority of whose members are his nominees.
I cannot, for sure, tell today what the functions of the Public Services Commission are with regards to interviewing and appointing persons who are technically and professionally qualified to hold my public offices and also regulating their performances. Are professional competences, long and meritorious services in the public service still relevant?
Because the Presidents' appointees tie their tenures to those of the Presidents, their institutions and establishments do not normally have long-term strategic plans. The sidelining of equally well-qualified persons compels them to employ themselves and find something to do, whether through legal or illegal means, just to earn a living.
One other result of the "Winner-Takes-All" syndrome is that my citizens have come to accept the search for political power as a battle which they must win by all means, either fair or foul including and sharing of money. Some others however prefer sitting on the fence waiting and praying quietly for their parties to come to power.
Struggling for political positions at all levels are always marred by antagonism. Even intra-party primaries in many political parties have not been impressive to me.
Another challenge I have with the constitution is that the traditional leaders with whom I have coped with even before the arrival of the Europeans, have not been fully engaged to contribute to the administration. Much as the drawers of the constitution succeeded in preserving the dignity of chieftaincy by banning them from active partisan politics, they could still have been given much more authority in matters affecting their environment and their traditional areas.
My prayer to you, my Maker, therefore, is to prompt the existing government to accomplish the constitutional review initiated by my son, His Excellency Atta-Mills, before I see the 9th Parliament of my Fourth Republic, in 2025.
Civic Education
One other important cause of my woes is the low level of civic education among my citizens. I can blame my governors for their inability in investing adequate resources into this aspect of the lives of my people. The citizens mostly think of what I should do for them instead of what they ought to do for me. By this, they flout your commandment that calls for honouring their fathers and mothers so as to live longer (Ephesians 6:1-2). They have revised the first verse of the National Anthem and passed on to you their responsibilities of "lifting high the flag of Ghana", for their rights to your "blessing our homeland", (a prayer, which because of their own conducts, they don't deserve to be granted).
Because of low level of civic education, my citizens carelessly elect for me any group of persons to manage my affairs. They throw away their powers to elect competent people for me by accepting bribes and gifts to give me any results. They are unable to appreciate their powers to choose good leaders for me and sometimes refuse to exercise their franchise on flimsy excuses which either show their lack of patriotism or lack of understanding of their basic civic responsibilities as my citizens.
Father, kindly grant my leaders the courage and the resources to intensify civic education without which the expensive free and compulsory basic education will be meaningless and waste of public funds.
Politics & Religion
The last groups I recommend to you for grace to serve me better are my current crop of politicians and men and women in the religions.
The conducts and utterances of some of these politicians make me nervous and fear for the sustenance of my Fourth Republican Constitution. The intolerance and bitterness among them are mounting tensions. Your intervention is greatly needed so that they will emulate the Association of Advertisers who, are obliged by their Association's Code of Conduct, not to destroy one another's product even in the severest competition for customers. I only appreciate them when they appear at funerals where I see some cordiality among them.
In the case of the men and women of the religions, you know better than I do, that a lot of them are hypocrites. I cannot understand why corruption, injustice, criminality and numerous social evils against my interest still abound in spite of the fact that at least 80% of them confess to belong to the various religious institutions, worshipping and listening to your holy word on Fridays, Saturdays and Sundays. Apart from fearing for the loss of my resources, I fear for the loss of the souls of these my people who need to be saved.
Conclusion
In spite of all these lamentations, my Lord, like the hymnist says, "I have counted my "many blessings" and I am surprised by what you have done for me. I have at least been spared some of the great disasters and political upheavals experienced by some of my compatriots I can mentioned several law-abiding and dedicated citizens in various fields of endevours who, by your Grace, have helped to sustain me all these years. I even I survived the recent Covid-19 pandemic. It is for these and many other reasons that I say a big "Thank you". Kindly continue to be my Lord and listen to my prayers in the Name of My Saviour Jesus Christ.
The Writer is a Past Registrar of Ghana Institute of Journalism, Koforidua Polytechnic (now Koforidua Technical University) and now of Ghana Christian University College, Amrahia – Accra.