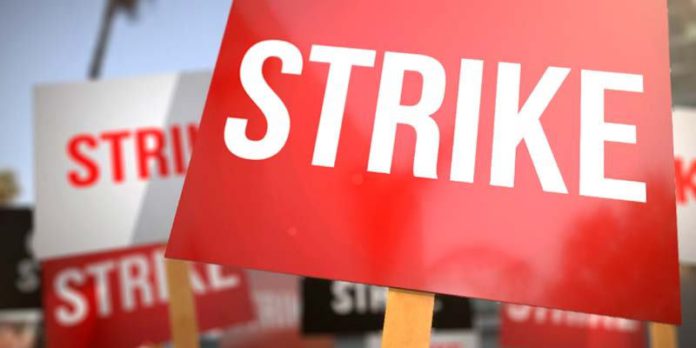 Students in some basic and junior high schools at Obuasi in the Ashanti region are still left stranded as the indefinite strike of the three teachers' unions which was received with mixed reactions enters day two.
A visit to some schools by Adom News' reporter, Isaac Normanyo confirmed that some basic schools in the Obuasi Municipality had been closed down while others had the students playing around.
"I visited the Obuasi Methodist Primary where I met some NaBCo recruits and Mentees with the pupils and another where two teachers, who had defied the orders of their leadership, were handling pupils from primary to junior high school," he said.
ALSO READ: GES threatens striking teachers [Audio]
Reporting the strike on Adom FM's Dwaso Nsem, Isaac Normanyo, said some Basic Education Certificate Education candidates revealed they would begin a self-preparation agenda towards the final exam or plead with their parents to employ the services of private tutors.
Isaac's visit to the area revealed students have resorted to trading the markets to make monies for themselves as the strike action continues.
Some parents also expressed worry over how the strike may force the children to go into galamsey which is a dominant and lucrative job in the area.
ALSO READ: 19-year-old boy sets lover ablaze over infidelity
The Ghana National Association of Teachers, National Association of Graduate Teachers and Coalition of Concerned Teachers, Ghana declared an indefinite strike over legacy arrears, Monday.
According to the Unions, the strike, which took effect from Monday followed series of engagements with the government on legacy arrears incurred between 2012 and 2016.