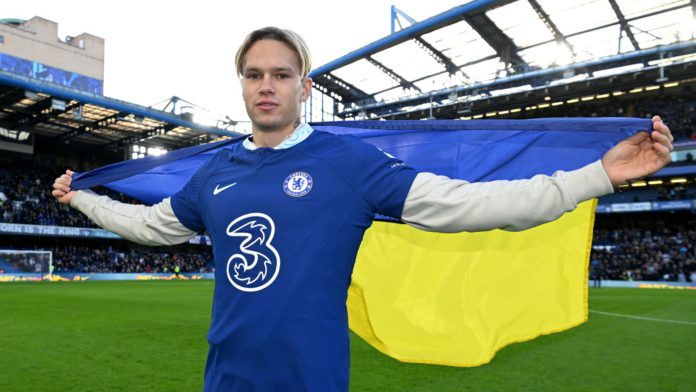 Shakhtar Donetsk owner and president Rinat Akhmetov has revealed he will donate £20 million of Mykhaylo Mudryk's £89m transfer fee to Ukrainian soldiers in their war against Russia.
Mudryk was announced as a Chelsea player on an eight-and-a-half-year deal on Sunday, which was the club's fifth signing of the transfer window.
The 22-year-old received strong interest from Arsenal, who made three bids to Shakhtar but has joined their London rivals.
"I am allocating $25 million (UAH 1 billion, £20m) today to help our soldiers, defenders, and their families," said Akhmetov.
"The money will be used to cover different needs – from providing medical and prosthetic treatment and psychological support to meeting specific requests.
"To ensure transparency, the project will have a professional independent team that will be in touch with the Azovstal defenders, their families, care providers, and volunteers."
The Shakhtar president also revealed his donation was the beginning of a new project that will help Mariupol defenders for their "unparalleled bravery".
Chelsea will face Shakhtar in a friendly in Ukraine in the future.
READ ALSO
"I am happy for Mykhaylo and very proud of him," Akhmetov continued. "He has shown that talent and hard work can make the impossible possible. And I have no doubt he will shine at Chelsea and across Europe.
"On the other hand, I have never made it a secret that my dream is to win European trophies. This means that we need players like Mykhaylo in Ukrainian clubs, competing at the European level.
"Unfortunately, that is impossible at the moment, because of this unjust war being waged against us by the Russian Federation.
"But I remain utterly confident we will defeat the aggressor. One of the things I look forward to most after our victory is Mykhaylo returning with his Chelsea team for a friendly match in Donbass Arena in a Ukrainian Donetsk.
"We must do everything we can to bring this day closer. We are forever indebted to our soldiers!"