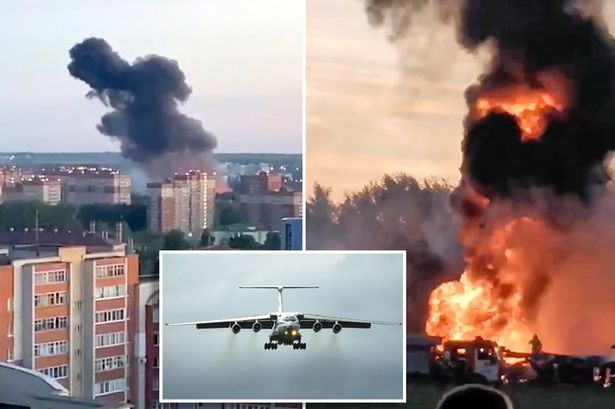 A massive Russian Il-76 cargo plane has crashed en route to Ukraine, killing four crew, as it exploded into a huge fireball in the sky.
The Ilyushin-76 was attempting an emergency landing in Ryazan shortly after refuelling in the city.
But the plane erupted in flames as it flew overhead while on a flight to supply Vladimir Putin's war effort.
A dramatic video shows a burning Russian military transport plane crash-landing on. As it landed behind residential tower blocks it explodes in flames and smoke, killing at least four of the nine crew.
Others remain in a 'grave' situation in hospital.
Voices filming the stricken plane are heard saying: 'Its all in flames, look.' and 'It's flying at us… So scary, it's flying at us… It's going to hit the houses, look… 'This is it (the plane hits the ground).'
The Ilyushin was en route from Orenburg to Belgorod, close to the war zone, when it crashed.
Reports say it suffered engine failure following the refuelling stop but a full investigation is underway.
The three who died at the crash site were named as Vladimir Petrushin, Nikolai Gorbunov, and Dmitry Andreev.
One more crew member died in hospital.
Such Ilyushin aircraft have been used in recent months for transporting military equipment to the war zone.
Ryazan is 125 miles southeast of Moscow and not close to the war zone.
The city is a key base for Russian paratroopers, who have suffered significant losses in the war in Ukraine.
The crash site field was near shops and residential buildings but there were understood to be no casualties on the ground.
It comes as Ukrainian forces will retreat from Severodonetsk in the face of a brutal Russian offensive that is reducing the battleground city to rubble, a senior Ukrainian official said today.
The news came shortly after the European Union made a strong show of support for Ukraine, granting the former Soviet republic candidate status, although there is still a long path ahead to membership.
Capturing Severodonetsk, in the Donbas region, has become a key goal of the Russians as they focus their offensive on eastern Ukraine after being repelled from Kyiv following their February invasion.
The strategically important industrial hub has been the scene of weeks of street battles as the outgunned Ukrainians put up a fierce defence.