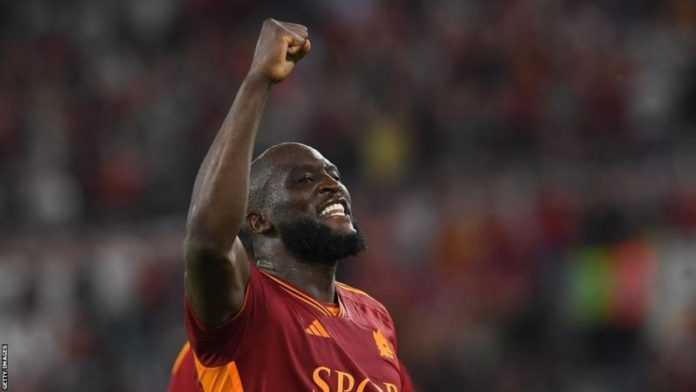 Roma manager Jose Mourinho said Romelu Lukaku thrives when he feels loved after the striker scored his first Roma goal in Sunday's 7-0 win over Empoli.
The Belgian joined the club from the Italian capital on a season-long loan from Chelsea in the summer.
Lukaku, 30, re-joined Chelsea for £97.5m in 2021 but his return proved unsuccessful and he was not part of new manager Mauricio Pochettino's plans.
"Romelu needs to feel loved and wanted," said Mourinho.
The Portuguese, who worked with Lukaku at Chelsea and Manchester United, added: "When he came here, he could sense the team needed a player like him.
"He likes to win – that's in his nature. I think he's really happy."
Lukaku, 30, spent last season on loan at Inter Milan, appearing in the Champions League final defeat by Manchester City.
But they could not reach a deal to permanently sign him from Chelsea, who he had re-joined from the Italians in August 2021.
And, after making clear he did not want to return to Stamford Bridge, he signed for Roma, who have only collected four points from their first four Serie A games.
Mourinho added that netting his first goal would be good for the forward's confidence.
He said: "That wasn't a big deal for me. Maybe it was for him – you know what footballers are like, especially forwards, they live to score.
"He's an intelligent player who since arriving has made it clear that first and foremost what matters is that Roma score, not that he scores."
Mourinho also said Inter, who thrashed AC Milan in their derby on Saturday, have "no reason to be angry" at Lukaku.
"They won the derby 5-1 and have an amazing team with lots of forwards," added Mourinho, who managed Inter from 2008-2010.
"They should be happy for their former coach, who needed Lukaku."
READ ALSO