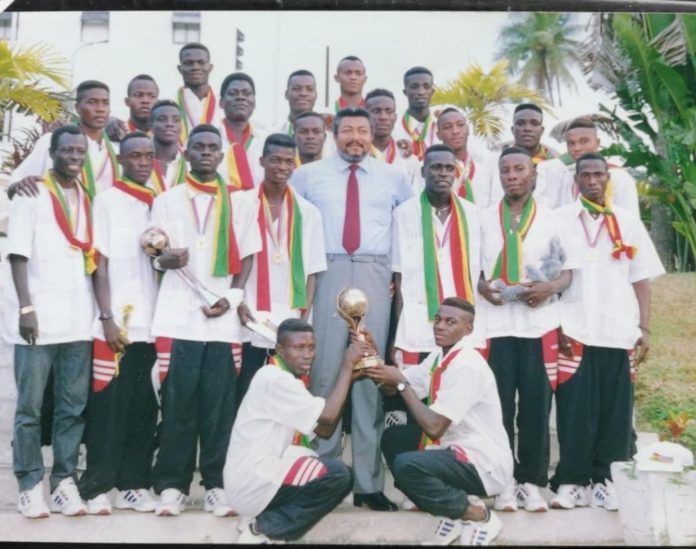 As the entire nation mourns the demise of former President Jerry John Rawlings, it is worthy to note that that football hit some enviable heights under his regime.
His passion and love for the Sport in many ways helped promote national cohesion and ensured many success stories in various competitions.
Here are some success stories in football under his watch as President of the Republic of Ghana:
READ ALSO
He lead the AFRC to power and overturned a decision by the deposed PNP administration headed by the late Dr Hilla Limann and decided the Black Stars be made to participate in the 1982 tournament. The tournament turned out to be the last African Cup won by the Black Stars to date.
The late President at a point put the presidential plane and other resources at the disposal of Asante Kotoko to win the 1983 Africa Clubs Championship for the second time.
He donated the Baba Yara Cup to be competed for at the Supreme Council for Sports in Africa (SCSA) Zone III tourney in Accra in 1986, which the Black Stars won and later defended successfully in Liberia.
He was President when the Black Starlets brought pride to Ghanaians as World under-17 Champions in 1991 and then opened the doors for another global dominance in 1995.
The Black Meteors won bronze at the 1992 Olympics Games in Barcelona and became the first African side to win an Olympic football medal under his watch.
Women Football also thrived as the Black Queens qualified and played at the 1999 Women's World Cup under his leadership.
Ghana also hosted and won the African under-20 championship in 1999 and the following year co-hosted the 2000 AFCON under his leadership.
It was during the last days of his reign as President when Accra Hearts of Oak won the 2000 African Champions League title in Accra.