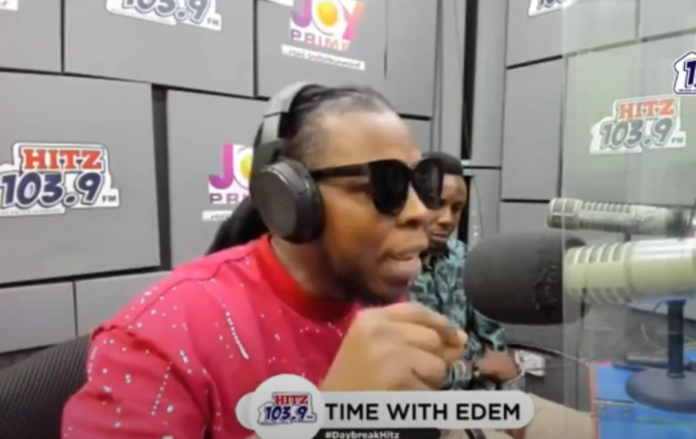 Ghanaian rapper, Denning Edem Hotor, mainly known as Edem Goget'em, will be releasing a new song that will serve as a rallying call to action on climate change. 
The 'Xe Toto' hitmaker made this revelation during the tree-planting exercise on the premises of the Ghana YMCA to mark the Green Ghana Day 2023.
Edem in collaboration with the Ghana YMCA team and his Personal Road Assist, Richard Mario, planted trees across the Ghana YMCA's compound and its environs.
The Green Ghana Day, established in 2021 by Ghana's President, H.E. Nana Addo Dankwa Akuffo-Addo is a multisectoral collaboration intended to restore the lost forest cover of Ghana and to contribute to the global effort to mitigate climate change.
Edem explained that participating and amplifying the Climate Change agenda is his contribution as an artiste to the nation's development. He also revealed that his new song is intended to mainstream the climate agenda and encourage everyone to contribute to saving the planet.
"I'm excited we've teamed up with the Ghana YMCA to plant trees and also to create awareness on climate change. Let me also officially announce that we have a song which is going to lead the way for the advocacy for global climate change and everything related to environmental sustainability, renewable energy, fossil fuel, and many more. A big thank you to the Ghana YMCA and everybody who is planting trees to save our planet," Edem disclosed.
Speaking about the involvement of the Ghana YMCA, National President, Mr Charles Habiah (Esq) explained that the Ghana YMCA considers environmental preservation a priority development area and called for more collaboration to increase efforts towards preserving the planet.
"We, in the Ghana YMCA, are committed to the afforestation projects as part of the climate change agenda. In fact, in the World YMCA, one of our key pillars is Sustainable Planets where issues of climate change are a big deal for us. For this reason, though it's a working day we've all set part of our time to come and join in the tree-planting exercise. It is said that when the last tree dies the last man must die. So, wherever you are, we invite you to join this campaign, and we are excited to be part of it to contribute our quota to saving our planet," Mr Habiah stated.
The World YMCA's Global Climate Change Ambassador, Cedric Dzelu, who has a verse on the upcoming song, revealed that he is excited by the cross-sectoral collaboration on climate action and is looking forward to leading advocacy with the new song.
Following the completion of the planting, Edem through his foundation, The Goget'em Foundation will continue to advocate climate action and mobilise stakeholders to enact policies that preserve the sanctity of the planet.