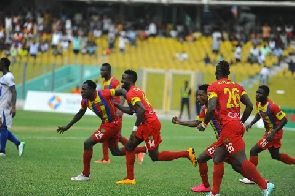 Former Division One League Board Chairman and legal practitioner, Kwame Ntow Fianko has quoted the law in support of the sixteen premier league clubs in Ghana following their unanimous agreement to boycott the special competition proposed by the Normalization Committee.
The premier league clubs rejected the decision by the Normalization Committee to hold a 64-team tournament which the winner and runners-up are to represent the country in the CAF inter-club competitions next season, but the Berekum Arsenal FC Board Chairman in a reaction to both the committee and the clubs action has expressed that, the champions league is reserved only for the sixteen premier league clubs and not division one clubs.
"Those saying that we are not in normal times so the regulations cannot work, I don't know where they are coming from. The premier league clubs are quoting the law to back their argument, they are not just speaking. 'even it is stated clearly in our Ghana Football regulations, Article 8 clause 5 that, champions shall be declared at the end of the premier league season and that champion shall represent Ghana in the CAF Champions League; there has never been a case where a division one club has been crowned champions to represent Ghana in the CAF Champions League."
"If it is the GFA regulations the Normalization Committee are going by, then the tournament [special competition] should get approval so that if in case the clubs pull out, they can be punished under Article 14 of the regulation." He explained.
With regard to the attempt by the committee's to pay the players directly when the competition starts, the lawyer says it does not make sense since the clubs are the ones having a contract with the players; so if there is money that they can use to support these club owners with, it shouldn't be paid to the players, because per the labour law; you don't have any contract with the players.
Following a meeting between club representatives and the Normalization Committee on Thursday in Accra, the clubs kicked against the 'unpopular' decision by the interim football governing body to directly pay match bonuses to players.