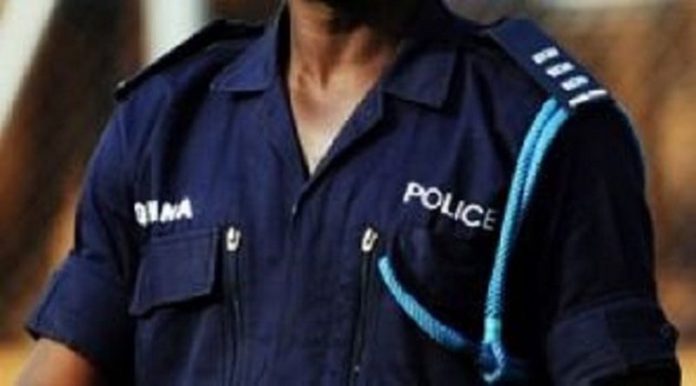 Tragedy struck when a policeman fell off a police operational vehicle and died in an accident involving a civilian vehicle at the Trades Union Congress (TUC) traffic intersection on the Liberia Road, near the Accra Technical University.
Corporal George Nkwanna, alias Hero, was attached to the Special Weapons And Tactics (SWAT) unit of the Accra Regional Police Command.
He is said to have died after falling off the back of a pickup truck which was carrying a number of policemen for operational duties.
ALSO: Supreme Court dismisses Woyome's application to pay judgement debt in installment
The 37-year-old and the team were on their way to East Legon when their vehicle ran into a Nissan Highlander vehicle driven by a Catholic priest (name withheld).
Sources at the Accra Regional Police Command said Cpl Nkwanna and some other officers were standing in the bucket of the pickup when the accident happened.
Nkwanna fell off the pickup truck and died on the spot, while four others who sustained injuries were taken to the Police Hospital in Accra.
ALSO: ASEPA report recommends promotion for Yaw Adutwum, Godfred Dame as substantive ministers as they emerge as Best-Performing Deputy Ministers
Celebration
A one-week observance ceremony held at the forecourt of the Accra Regional Police Command for Cpl Nkwanna attracted many police officers from all the 14 divisions of the command.
Dedicated man
They described the deceased as a dedicated policeman who was hard working.
ALSO: Video: Legon students mock 'chalewote' girlfriend
A number of police officers also described the death of their colleague as unfortunate.
The police band played some gospel songs from the renowned Ghanaian gospel musician, Yaw Sarpong, which evoked sorrow among the mourners.
Cpl Nkwanna was not married.
Source: Daily Graphic