A student at the University of Ibadan, Nigeria, has accidentally burnt himself with fire while trying to imitate the 'Sango' god at a school concert.
The audience at a school concert was quite shocked while watching a stage performance gone wrong.
READ ALSO: "In KNUST, the palace guard is more royal than the prince" – Student who held one-man protests reveals
A student had tried to imitate 'Sango' but could not handle the fire element to complete the personality.
The freak incident captured in an IG video was quite disturbing to the audience who screamed uncontrollably as they watched him set his neck in flames.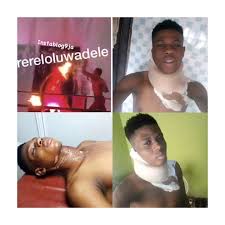 Within a short time, a moment of fun had quickly transitioned into a state of chaos. Other stage performers were also affected while trying to help him during the accident.
READ ALSO: Bigwigs in NDC worked against my election – Opare Addo asserts [ Audio]
After an accident that saw him get burnt with fire, a student is gradually getting back his full strength after injuries to his neck.
According to reports, the victim is feeling better following the wild event.