Facebook through an automated broadcast on Tuesday sent out posts informing users of an eye recognition feature with the intent to boost usage of the social media interface.
According to the information, Facebook is working to make the online platform better by adding more ways to use 'Face recognition' besides just suggesting tags.
In addition, it the post said, the technological update will be able to do things like "find photos you're in but haven't been tagged" and also help protect you from strangers using your photo.
READ ALSO: Canada: Facebook selfie leads to killer
THE POST AS WAS BROADCAST BY THE FACEBOOK TEAM: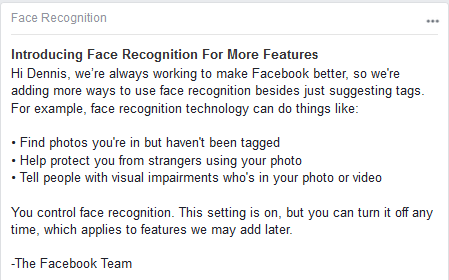 It is clear the updated feature seeks to prevent impersonating at the highest esteem since lots of fake pages have been signed up by some faceless people for diverse reasons.
Nonetheless, users who are visually impaired will have the feature available to inform them who is in a photo or video they are settled on.
READ ALSO: 'I replied to a Facebook post and was married six days later'
Meanwhile, Facebook maintained that users who are not in for the face recognition interface can easily turn off the feature through their settings.
'You control face recognition. This setting is on, but you can turn it off any time, which applies to features we may add later…" the post added.