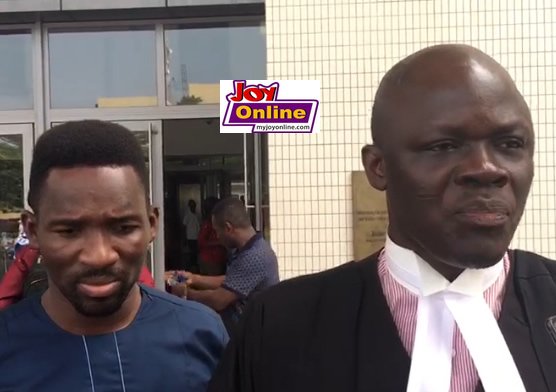 The Modern Ghana journalist who was arrested and detained by the National Security Council early this week insists he was never tortured by the operatives there.
Lawyer for Emmanuel Britwum, Debora Asabere-Ameyaw in a statement said claims by a private legal practitioner that her client was tortured have all been denied by the journalist.
"Mr Emmanuel Britwum hereby denies categorically each and every allegation levelled against him in a purported statement by A-Partners@Law (Mr Anyenini's law firm).
"It is his case that he has never engaged any law firm or any individual from that firm. He has never made any statement to the effect that he was tortured for which reason same was to be circulated in the media," the statement signed by his said.
ALSO: Gifty Anti to launch first book 'A Bit Of Me'
This is a second denial from Emmanuel Britwum has denied the alleged torture.
The first time Britwum speaking through his lawyers said he was "neither tortured nor brutalised" during his detention at an undisclosed location.
The denial came after private legal practitioner Samson Lady Anyenini – who was part of a legal team put together by the Ghana Journalists Association (GJA) after the two were arrested – said the journalist had corroborated his editor Emmanuel Ajafor Abugri's account of events while they were in detention.
According to Mr Anyenini, "I asked him more than five times," the lawyer recalled his interaction with his now former client. Mr Lardy said he gave this testimony in the presence of lawyers, journalists and friends.
"I am learning for the first time that he has gone to get another lawyer…. It is strange that some lawyer has surfaced and claimed he was not tortured," Mr Anyenini said on Joy FM's Newsnight, Wednesday.
In his second denial, again through his lawyer, Britwum denies ever confirming the allegations levelled by his editor while speaking to Mr Anyenini.
ALSO: Video: Soldier allegedly locked up for campaigning against new chamber
The lawyer said her client, as a trained journalist, is fully aware of the ethics of his profession and would not take advantage of situations to embarrass state institutions "as he is not an opportunist."
The statement added "he maintains his innocence of the charges preferred against him."
Below is a copy of the full statement:
Despite Britwum's denial, in the audio below from an interview he granted on Accra based Kingdom FM after his release, the journalist confirmed the assault. He spoke in the local dialect, Twi.
Source: Myjoyonline.com