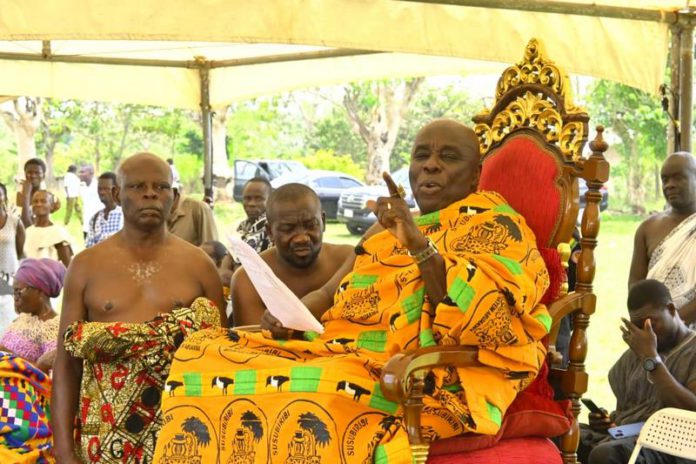 Okyenhene Osagyefo Amoatia Ofori Panin says Ghana's economic woes may linger forever if managers of the country do not depart from exporting raw materials and become a production hub and contributor of refined products on the world market.
He says, like many other African countries, Ghana is confronted with a huge balance of payment deficit occasioned by the country's failure to boost local production.
Osagyefo Amoatia Ofori Panin stated that no country can develop when its value of exported raw materials outstrip local production and value-added products.
Speaking at the launch of Honico Chocolate Spread and Beverage at Kyebi Amanfrom, Osagyefo Amoatia Ofori Panin said the statistics in the cocoa sector alone is alarming and most challenging.
He said, West Africa alone accounts for over 70% of the world's cocoa production, with Ghana accounting for over 30% of the total production.
'It is ironic to learn that the entire West African Sub-region produces a pitiable less than 1% of the world's chocolate. Our contribution to other value-added cocoa products is even more scandalous.  The implication of this for our country and continent is far-reaching," the Okyenhene noted.
He intimated that the lack of value-addition in the cocoa enterprise means that cocoa farmers, especially smallholder farmers, only get a meagre share in the estimated 130-billion-dollar global chocolate industry.
The cocoa industry, he mentioned, has the potential to resolve the entire economic problems of Ghana.
"The launching of Honico Chocolate Spread and Beverage is commendable and praise-worthy. It represents a bold but humble attempt to increase our share of the value chain in the chocolate industry.
"After many decades of experimentation, it is time to come to the realisation that agri-business and agro-processing through value addition is the way to go," the Okyenhene stated.
He called on the government to institute measures aimed at boosting the productive capacity of small and medium enterprises in Ghana, especially those engaged in the agro-processing value chain.
He said the location of the Honico Chocolate factory at Amanfrom is strategic, because the factory is positioned in a cocoa producing area, which places them close to the raw materials in part and closer to the farmers, who undoubtedly would be inspired and encouraged when shown the kind of value-added to their cocoa beans.
"It is my prayer that this company receives the necessary governmental support and assistance to expand its market share. I also urge the management of the company to institute measures to meet quality standards. This is the only way to ensure sustenance in creating jobs and improving the standard of living of our farmers," the Osagyefo advised.