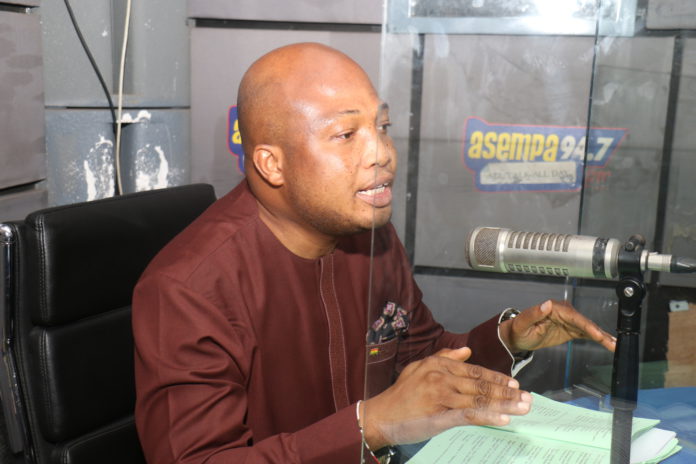 Private legal practitioner, Maurice Ampaw, has expressed his surprise at North Tongu Member of Parliament (MP), Samuel Okudzeto Ablakwa's "disrespect of the law".
This comes after a viral video showed the lawmaker kicking away a writ filed against him by the Executive Secretary of the Board of Trustees for the National Cathedral, Rev Victor Kusi Boateng seeking a 10-day restraining order from further public publications.
To him, Mr Ablakwa being a lawmaker should not show such "disregard" for legal documents, and the court's authority or interfere with the legal process. 
He said that Mr Ablakwa should have referred the documents to his lawyers to "file an opposition".
"As a lawmaker, his actions show the public that one, you have disrespected and disregarded the authority of the court, two, you've interfered with the administration of legal process and three, disrespected the legal process, thus, the document and that's a serious issue," he bemoaned.
Lawyer Ampaw indicated that Mr Ablakwa should be summoned before the privileges committee of parliament for contempt of court.
"I look from this angle that Ablakwa needs to be punished. With Alban Bagbin being a lawyer, Ablakwa by now should be asked by colleagues to appear before the privileges committee of parliament to face contempt charges," he added.
RELATED:
Rev. Kusi Boateng sues Okudzeto Ablakwa
He added that the Attorney General can step in to punish Mr Ablakwa should the video get too widespread.
"And if the video goes too viral, I think the attorney general can step in and cite him for contempt' for undermining and demeaning the court," he said on Accra-based Neat FM.
Mr Ablakwa in a Facebook post shared shots of the document stating that his lawyers will work on it.