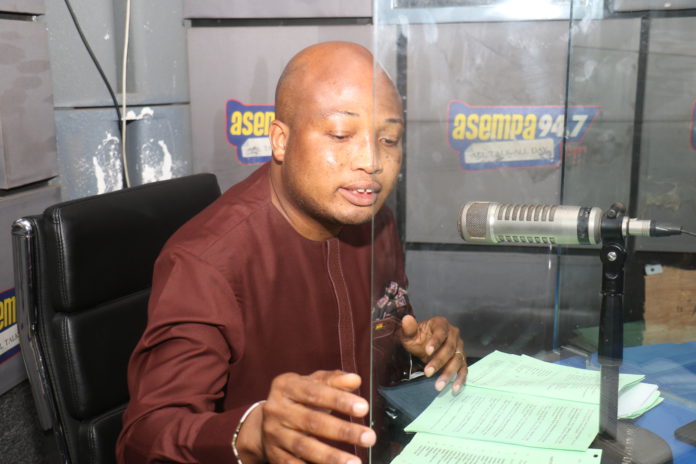 Member of Parliament (MP) for North Tongu, Samuel Okudzeto Ablakwa, is not backing down on his quest to get answers about his double identities allegations against Reverend Kusi Boateng, Secretary of the Board of Trustees of the National Cathedral.
The lawmaker in his latest revelations is demanding answers from the National Identification Authority (NIA) over the name on a Ghana Card issued to Kusi Boateng.
Taking to Twitter, Mr Ablakwa claimed the man of God went to a registration centre as Rev Kusi Boateng but was issued a card bearing the name Kwabena Adu Gyamfi with a different date of birth.
To buttress his point, he shared an image from the NIA database which captured his date of birth as 30th December 1969 as against a birth date of September 7, 1971.
He has, therefore, questioned the credibility of the national ID exercise as someone who maintains Rev Kusi Boateng has multiple identities.
The NIA must explain to Ghanaians how a popular prophet arrived at their registration premises as Rev. Victor Kusi Boateng but was mysteriously issued a Ghana Card bearing the name Kwabena Adu Gyamfi with a different date of birth!

How credible is the National ID Exercise? /1 pic.twitter.com/zkvQQvQTSi

— Sam Okudzeto Ablakwa (@S_OkudzetoAblak) January 30, 2023
The Executive Secretary in the past weeks has been in the news following claims of conflict of interest against him with regards to the National Cathedral Project, including possession of multiple identities and other alleged criminal dealings.
READ MORE:
Okudzeto Ablakwa drops more shocking details about Kusi Boateng
Rev Kusi Boateng reacts to Okudzeto Ablakwa's allegations
The NIA must explain to Ghanaians how a popular prophet arrived at their registration premises as Rev. Victor Kusi Boateng but was mysteriously issued a Ghana Card bearing the name Kwabena Adu Gyamfi with a different date of birth!

How credible is the National ID Exercise? /2 pic.twitter.com/l5oIjo8ZxY

— Sam Okudzeto Ablakwa (@S_OkudzetoAblak) January 30, 2023