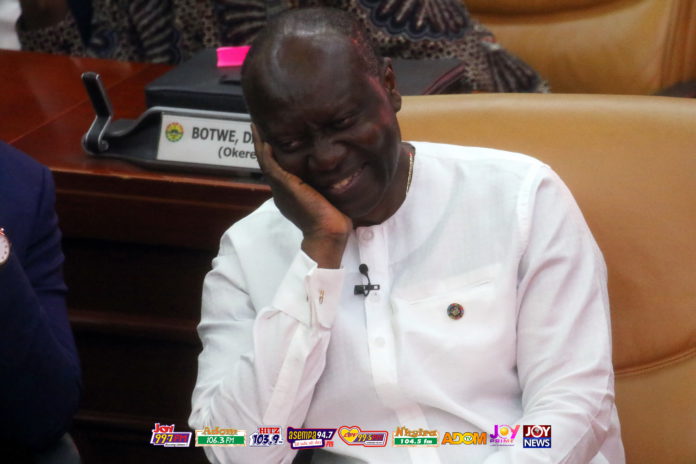 The Finance Minister, Ken Ofori-Atta, has received heavy public criticisms for leading the country's economy 'into the gutters' as many have described it, hence, calling for his removal by President Nana Akufo-Adoo.
Mr Ofori-Atta survived a censure motion moved by the Minority in Parliament following a decision by the Majority not to take part in the voting on the matter and walked out of the House, after the debate on the motion was concluded.
Following that, the Member of Parliament for Kpando, Della Sowah, asserted that the New Patriotic Party has no replacement for the embattled Finance Minister.
This she said informed the decision by the majority in parliament not to support the censure motion filed by the minority, though some majority MPs earlier called for the dismissal of Mr Ofori-Atta.
Speaking at a short inauguration of the Kpando Traditional Council, the Kpando Member of Parliament ridiculed the act by the majority.
"We also moved a motion, we wanted to censure the Finance Minister for his removal and we signed the motion, I was one of those who signed.
"But unfortunately, our colleagues from the other side [Majority], also wanted him removed and they came and said they were going to support us, 96 of them, which would give us the majority we needed to have him [Ken Ofori-Atta] impeached.
"But unfortunately, they chickened out, and we realised that their chickening out was because they don't have the men. They were boasting 'we have the men, we have the men' and I think when they went back and saw that if this one is removed there is nobody to replace him, so they have to back down. They don't have the men," she stressed.
Madam Sowah also gave details of the previous session, and her contributions on the floor assuring of her commitment to lobby for development projects to the constituency.
Akpinifia Okpekpewuokpe Dagadu IX lauded the MP's role in developing the Kpando Traditional Area and appealed that her office should continue to collaborate with the Municipal Assembly to harness development in the area.
He raised concerns about the names used in the government street naming project and opined that the streets of Kpando should be christened after illustrious sons and daughters of the Akpini land, and not names that are not familiar to the indigenous people.
The Traditional Council structure was sponsored by the Ghana National Petroleum Commission, with counterpart funding from other agencies.