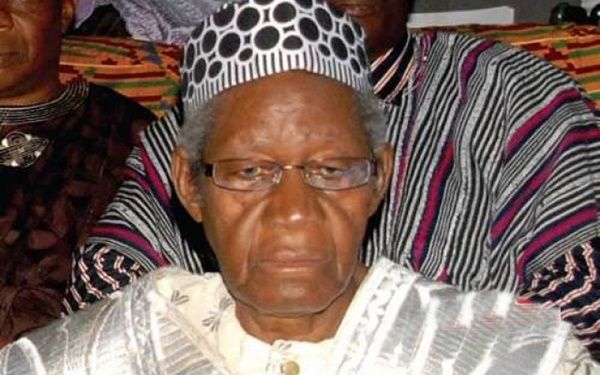 The Chairman of the Council of Elders of the New Patriotic Party (NPP), Mr C.K. Tedam is dead, family sources have revealed.
Mr Tedem, who is a founding member of the NPP and former Council of State Member, died in his sleep at his home in Accra on Thursday night.
READ: Audio: I was jailed but walked free due to Aisha Huang's power – Field Engineer
The 94-year-old was among the early political torchbearers from the then Northern Territories.
Mr Tedam first won election to parliament as an independent candidate in 1954. He was a founding member of the Northern People's Party. He stood and won another election to parliament in 1956 on the ticket of the Northern People's Party. He also served as a Minister of Local Government during the regime of the Supreme Military Council (Ghana).
READ: All markets in Kumasi to close at 6:pm
He was a member of the Council of State during the regime of John Kufuor.
He is a founding member of the NPP. He became the Chairman of the Party's Council of elders during the time the NPP went in opposition after 2008. As at May 2015, he was the Chairman of the Council.
READ: Indian businessman kidnapped in Kumasi
Personal life
He was the son of Pagapio Tedam and the brother of Pagapio Awampaga. Before entering parliament, Mr Tedam had been a teacher. He, however, comes from a political party. His niece, Catherine Tedam won an election and represented the Chiana Paga Constituency as a Member of Parliament during the administration of Kofi Abrefa Busia.
He was married to Winifred Tedam, daughter and sister of Chiefs J.K. Karbo and Abeifa Karbo of Lawra. He left behind six children. He was a Catholic and a Kasena.
Awards
Mr Tedam has received awards for his services from the Paga Development Association and the NPP.