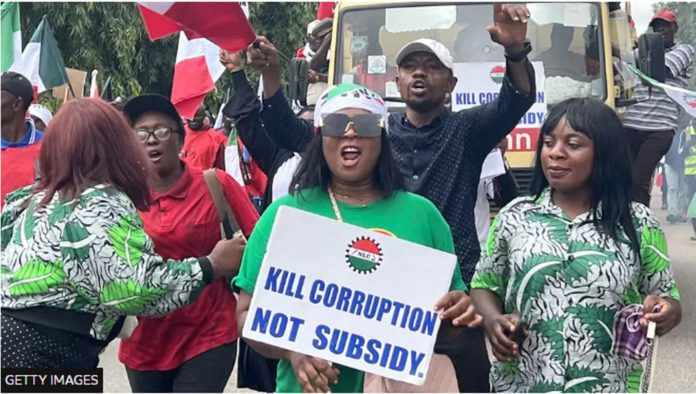 Nigeria's President Bola Tinubu has announced a six-month increase to the minimum wage as workers are set to start an indefinite strike.
Unions want the monthly wage to be raised to $255 (£210) to help deal with the sharp rise in the cost of living since Mr Tinubu took office in May.
The President's $32 increase only brings a monthly minimum salary to $70.
He also pledged to speed up the rollout of cheap gas-powered buses to help with the recent tripling of fuel prices.
This was prompted by Mr Tinubu's removal of a fuel subsidy that had kept the price of petrol low for decades in Africa's largest economy.
In June, the country also abandoned its currency peg allowing it to trade freely, leading to one of the biggest falls in the naira's history.
This has made life difficult for struggling Nigerians as already high inflation has soared due to an increase in the cost of imports.
In a televised national address to mark the country's 63rd year of independence from the UK, the President outlined measures he said would cushion people from the current economic hardship.
"There is no joy in seeing the people of this nation shoulder burdens that should have been shed years ago," Mr Tinubu said.
"I wish today's difficulties did not exist. But we must endure if we are to reach the good side of our future."
The 71-year-old reiterated that while reform would be painful, it would be worth it as the government could now plough the billions saved from the fuel subsidy into projects like the compressed natural gas bus network.
"We now carry the costs of reaching a future in Nigeria where the abundance and fruits of the nation are fairly shared among all, not hoarded by a select and greedy few," he said.
"A Nigeria where hunger, poverty and hardship are pushed into the shadows of an ever-fading past."
The main labour unions – Nigeria Labour Congress (NLC) and the Trade Union Congress (TUC) – said they would proceed with the planned indefinite strike from Tuesday.
The union leaders insisted the government had failed to address the suffering caused by the removal of fuel subsidy.
The government had appealed to them to suspend the strike to allow more time for negotiations.