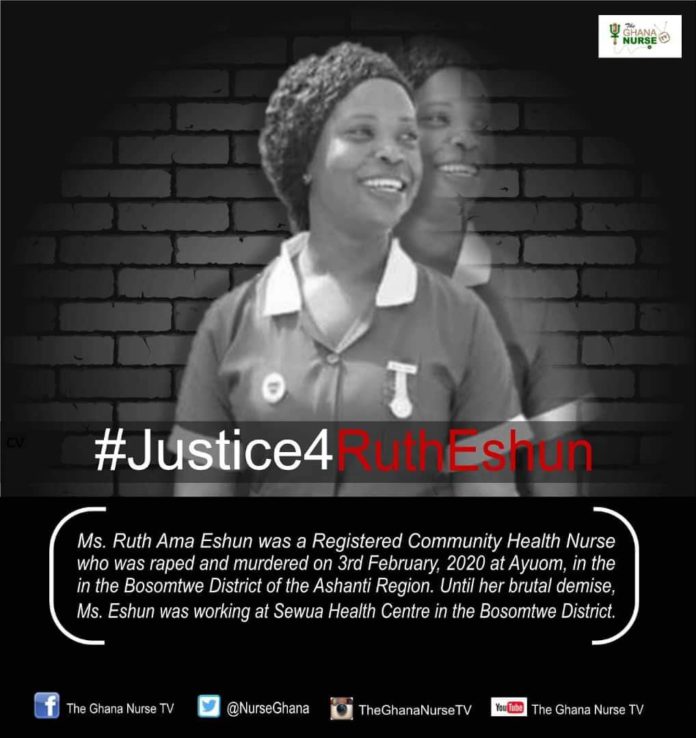 The social media campaign being embarked on by friends of a nurse, Ruth Arhin, who was allegedly raped and murdered appears to be yielding some results as police have arrested one suspect.
A mobile phone found at the scene of the crime has been traced to the suspect whose identity is not yet known to the media.
Ruth Arhin, 37, was allegedly murdered by unidentified assailants at Sewua in the Bosomtwe District of the Ashanti Region.
Ruth, a mother of three, did not return home after close of work on Monday, February 3, 2020 only to be found dead a few metres away from her house on Tuesday, February 4.
"Her lifeless body was discovered close to where she stays. You could also see marks of assault on parts of her body suggesting that the deceased may have struggled with her assailants," an eyewitness said.
But this narrative has been disputed by a relative who insists when the deceased was found, there were no signs of struggle.
"There was no mark, there was nothing like a knife, nothing of that sort was found. She was just lying here," he said.
What he did note was that her underwear had been pulled down, suggesting she had been raped before being killed.
The Asokwa District Police was invited to the scene and the lifeless body of Ruth was taken away to the morgue for autopsy.
Since then social media users have taken to the internet to demand justice for Ruth Arhin popularly known as Ruth Eshun using #Justice4RuthEshun.
Her grief-stricken husband, a lecturer with the GIMPA campus in Kumasi wants police to speed up investigations.
"I know my wife cannot be brought back, but I will be so happy if the perpetrators are arrested according to the law. So I want the investigation to be swift," he said.