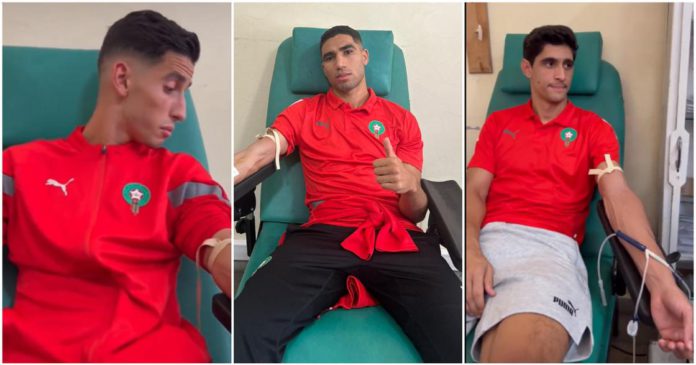 Morocco's national football team has donated blood after the deadly earthquake hit their country, killing more than 2,000 people.
Friday night's 6.8-magnitude quake has killed thousands and injured at least 2,059 people – 1,404 critically – with the death toll expected to rise.
The team was due to play an African Cup of Nations qualifier against Liberia on Saturday in Agadir, 205km (127 miles) south-west of Marrakesh, but the game was cancelled.
Players and staff of the Atlas Lions entered a blood transfusion centre to shouts and cheers, a video posted to social media shows. Players smiled and gave the thumbs up as they sat in chairs donating blood in their football kit.
Amal Duraid, the director of the Regional Centre for Blood Transfusion in Casablanca, launched an urgent appeal for blood donations to help the people injured by the earthquake.
"I appeal to all citizens across Morocco to go to the nearest centres to donate blood, given that the death toll from the earthquake is on the rise," he said.
A number of residents gathered to donate blood in several cities, including Marrakesh and Rabat.
Meanwhile, soldiers and workers brought water and supplies to mountain villages in ruins on Sunday.
Those left homeless by the destruction slept outside on Saturday, in the streets of the ancient city of Marrakech or under makeshift canopies in Atlas Mountain towns like Moulay Brahim.
The worst destruction is in small, rural communities that are hard for rescuers to reach because of the mountainous terrain.
Flags were lowered across Morocco, as King Mohammed VI ordered three days of national mourning starting on Sunday.
The army mobilised specialised search and rescue teams, and the king ordered water, food rations and shelter to be provided to those who had lost their homes.
The king called for mosques across the kingdom to hold prayers on Sunday for the victims, many of whom were buried on Saturday amid the frenzy of rescue work nearby.
Some Moroccans complained on social networks that the government was not allowing more international help.
The UN said it had a team in Morocco coordinating with authorities there about how international partners could provide support.
The UN estimated more than 300,000 people have been affected in Marrakech and the surrounding area.
The US Geological Survey said the quake had a preliminary magnitude of 6.8 when it hit at 11.11 pm, with shaking that lasted several seconds.
The agency added that a magnitude 4.9 aftershock hit 19 minutes later.