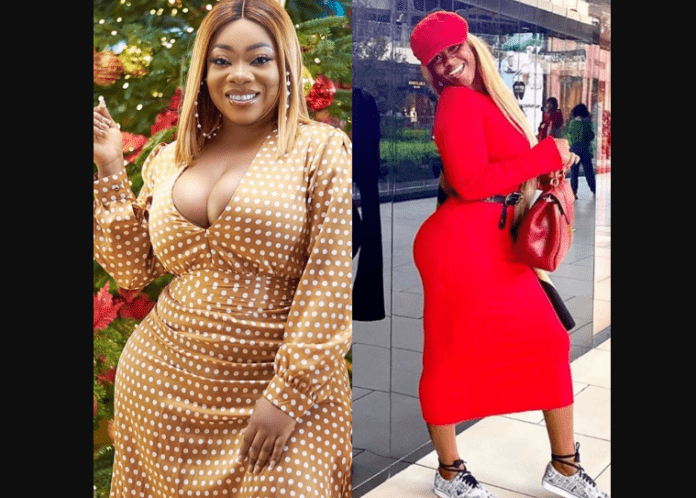 The scuffle between Ghanaian actresses Moesha Boduong and Salma Mumin doesnt seem to be ending anytime soon.
The once best friends are now firing and jabbing each other in their latest posts on Instagram.
Salma Mumin first got fans talking when she told colleague actress Emelia Brobbey that she wouldn't be friends with Moesha again because "she isnt someone I would want to have personal contact with."
According to her, she will not want to speak with Moesha again in her life.
But, reacting to her comments, Moesha took to Instagram and further made some revelations.
SEE THIS:
According to Moesha, Salma Mumin is a hypocrite who wouldn't think twice talking behind her friend's back.
What pains Moesha is the fact that Salma jabbed her and other girls for having "fake" bodies but hopped onto the train for butt surgery in Turkey, which eventually went wrong.
Meanwhile, the curvy actress said Salma is bitter towards her because she wasnt satisfied with the results of her butt surgery.
Salma has denied embarking on a trip to have a butt surgery.
This is what Moesha had to say in the now-deleted post:
"Salma, you used to be my best friend, we even lived in the same house together, and we growing apart doesn't mean u are my enemy. But I honestly also don't want you as my friend!! because u were never a good friend to me, you always talked and insulted me behind my back and faked with me…so pls keep my name out of ur mouth and stop using my name as a bait in any silly fake comment u see on ig!! I don't have ur time to create fake pages so pls stop being a hypocrite!! U posted on ig shaming girls who did thier bodies but went to turkey to do yours and u are bitter because u didn't get the result u wanted!! So stop pretending!! This is an evidence of you shading other women in the past!! I wish you well .stop going around making interviews saying I wronged you, when you actually started the shades..I don't hate you."