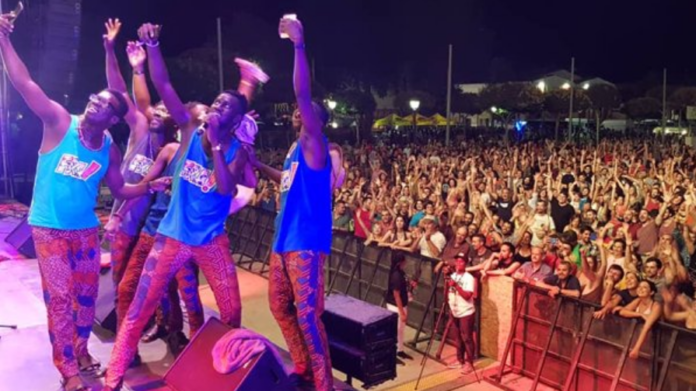 Last Saturday, FRA! band took their turn to represent Ghana at the vis-à-vis festival in Etnosur, Spain delivering back to back highlife songs that got the crowd dancing all night.
They entertained the many Spanish citizens to good Ghanaian highlife music which earned them an encore from patrons even when they brought their performance to an end.
In an interview with Hitz FM after their performance, the leader of the band disagreed with the notion that language is a barrier in music. The leader explained that whoever came up with that, especially for Ghanaian musicians, is totally wrong.
SEE THIS: Video: Shatta Wale explains why he is king
"Music is from the heart and clearly, we were able to export the music we had and touched the people out here, as you can see they really enjoyed it," the leader of the band said.
FRA! band reiterated that Ghana is a treasure of talents and over the years, they have seen bands come and go with some of them unable to showcase the rich Ghanaian music to the world.
ALSO SEE: I'm not an ex-convict; ignore the mugshot – Fantana
"Now by the kind courtesy of government, the Creative Arts Council, MUSIGA, Casa Africa and the Spanish Embassy, we have been able to perform on this platform to sell Ghana to the world, Spain and we know it's going to stay," the band leader said.
The group also revealed how they almost gave up on doing music after they realised they were not progressing in any way.
What kept them going was teamwork, hard work, perseverance, the can-do spirit and internal motivation amongst each other.
"People out there noticed our efforts and we have been promoted to this level and it's possible for everyone not just FRA. Everyone can get this opportunity," the band leader said.
MORE: Okyeame Kwame praises Shatta; reveals missing element in track with Beyoncé
They encouraged all stakeholders and people involved in music to help build other bands just like like them or even better ones and sell to the world.
The FRA band were the opened acts for the night and they sang about love, abuse, gossip and more and with all this, the crowd still asked for more.
Source: Hitz FM | Doreen Avio