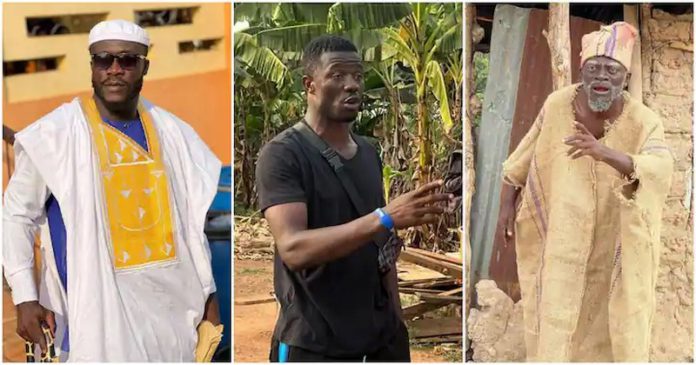 Popular Ghanaian actor, Kwaku Manu, has publicly appealed to his colleague, Lil Win, to put aside their differences with Ras Nene, also known as Dr Likee, in a YouTube video that has gone viral.
Kwaku Manu, who is known for his comedic roles in Kumawood movies, urged the two actors to reconcile and work together for the betterment of the Ghanaian movie industry.
He emphasized the need for unity and warned that unnecessary tension between actors could have dire consequences.
In the video, Kwaku Manu spoke directly to Lil Win and implored him to make up with Ras Nene and criticized Lil Win for some disparaging comments he made about YouTube skit actors like Dr Likee.
Lil Win had previously stated that the star power of YouTube skit actors could never match that of traditional Kumawood stars. The statement caused controversy and bred beef between the two stars. However, Ras Nene has said countless times that he has no problem with Lil Win.
Kwaku Manu argued that such comments only served to create division and animosity in the industry, which could ultimately harm everyone involved.
He also praised Ras Nene for his talent and the positive impact he has had on the industry, saying that he deserved respect and recognition for his hard work.
Lil Win shades Dr Likee, other YouTubers after showing off awards
Lil Win reveals how Dr Likee and his crew refused to work with him
Lil Win turns focus on doing more gospel songs