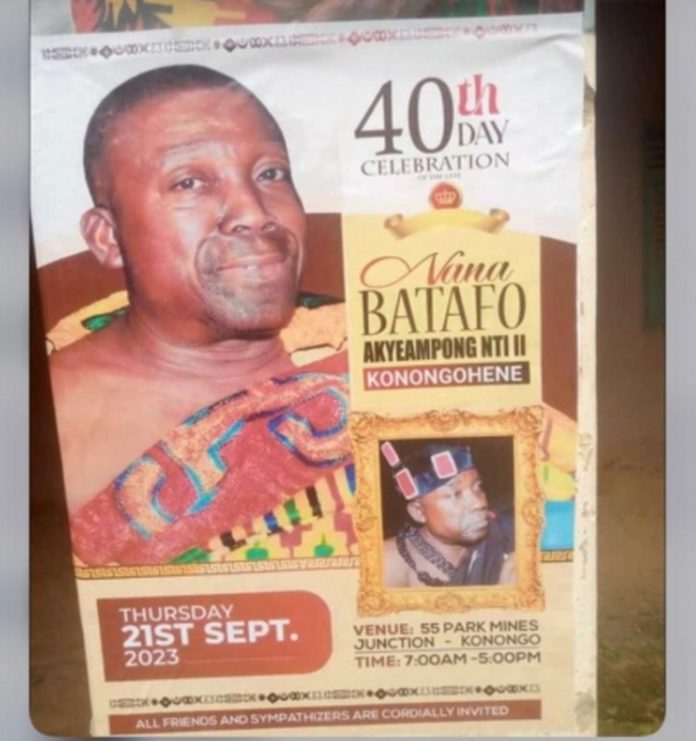 The Asona clan royal family of Konongo in the Ashanti Region has filed an application for an injunction against the burial and funeral celebration of the late chief of Konongo, Nana Batafo Acheampong Nti II.
According to the royal family, the planning of said celebration was made on their blind side, contrary to customary practice.
Speaking to the press, Nana Asamoah Korang III, Akyem Kotoku Abodomhene and his biological brother to the late chief of Konongo said their application for injunction was to ensure that the right thing was done with regard to the burial of his brother.
He said according to Akan traditions and customs, burials are organised by the family and kinsmen of the deceased and that must be respected.
"As a family we are still preparing for the funeral of our late brother, then all of a sudden we heard another group has emerged organizing a 40-day celebration without our consent. And so we went to the Kumasi High court to seek for injunction to stop it," he explained.
The late Nana Kwame Batafo Acheampong Nti II was the Chief of Konongo from 1983 to 2022. He was the 18th chief of Konongo.
Following his demise, Nana Dr. Awuah Abedimsa II has been customarily enstooled as the chief of Konongo.
Below is the writ