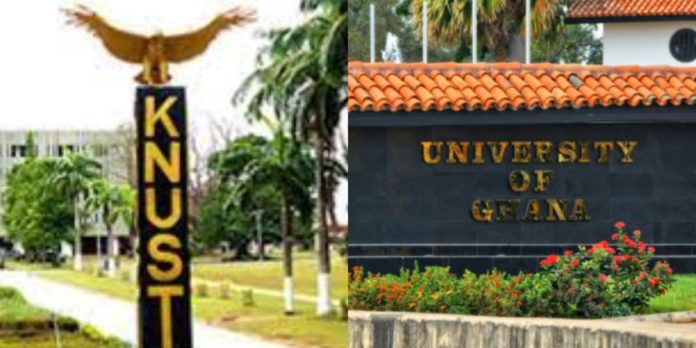 Ten African public universities, including the University of Ghana (UG) and the Kwame Nkrumah University of Science and Technology (KNUST), have been provided a grant of $15 million to conduct research on food security and other development challenges facing the continent.
The UG is focussing on food security as its thematic area with emphasis on food safety and quality, while KNUST is researching into humanities and sciences with emphasis on entrepreneurship and youth employment.
They are also expected to train Master of Philosophy (MPHIL) and Doctor of Philosophy (PHD) student researchers to acquire the requisite skills to help solve problems in thematic sectors.
The sectors include food security, climate change, public health, quality water delivery, entrepreneurship and youth employment, antimalarial drug delivery, sustainable agriculture, environmental management and livestock health.
The other beneficiary universities are the Botswana International University of Science and Technology; Eduardo Mondlane University of Mozambique; University of Joseph KI-ZERBO in Burkina Faso; Sokoine University of Agriculture, Tanzania; Makerere University, Uganda; Copperbelt University, Zambia; University of Zambia; and the Nelson Mandela African Institution of Science and Technology, Tanzania.
The grant was provided by South Africa's National Research Foundation (NRF) and Department of Science and Innovation under an initiative dubbed: O.R. Tambo Africa Research Chairs Initiative (ORTARChI).
Other partners of the initiative are the Oliver & Adelaide Tambo Foundation (OATF), Canada's International Development Research Centre (IDRC) and seven of a science granting councils initiative in sub-saharan Africa (SGCI).
The beneficiary universities will also become research hubs or chairs for the launch of highend skills development.
They will also research into some of the thematic areas for the next five years subject to extension based on their performances. Research Chairs are usually granted to beneficiary universities after a rigorous review process in recognition of their leadership, talent and commitment to supporting high-quality research.
Launch
At the launch of the initiative in Accra on Thursday, the Research Chairman of the UG, Prof. Firibu Kwesi Saalia, said food safety impacted either positively or negatively public health, food security and international trade competitiveness of a country.
He said "Ghana is supposed to be an agrobased economy yet we have one in every two citizens who are food insecure", adding that "packaging is one of the weakest links in our food delivery system for which we must pay much attention to".
Prof Saalia announced that an 11-member technical committee, including some core research team members had been inaugurated as part of efforts to make the initiative succeed.
The Pro Vice-Chancellor, Research Innovation and Development of the UG, Prof Felix Asante, who launched the initiative said the event coincided with the university's 75th anniversary celebration and the commemoration of an African Renaissance concept meant to overcome challenges confronting the continent and also achieve cultural, scientific and economic renewal.
Oliver Tambo
The Provost of the College of Basic and Applied Sciences (CBAS) of the university, Prof. Boateng Onwona-Agyeman, said the initiativewas built on the work of Oliver Tambo, a prominent South African and pan-Africanist who believed in creating change through education and also ensuring cooperation and solidarity among African nations.
He said that the initiative was first announced in 2017 to commemorate the 100th anniversary of the birth of Oliver Tambo, who was also one of the most important leaders in South Africa's liberation struggle.
Prof. Onwona-Agyeman further described Tambo who led the African National Congress as a committed pan-Africanist and advocate of science and technology.