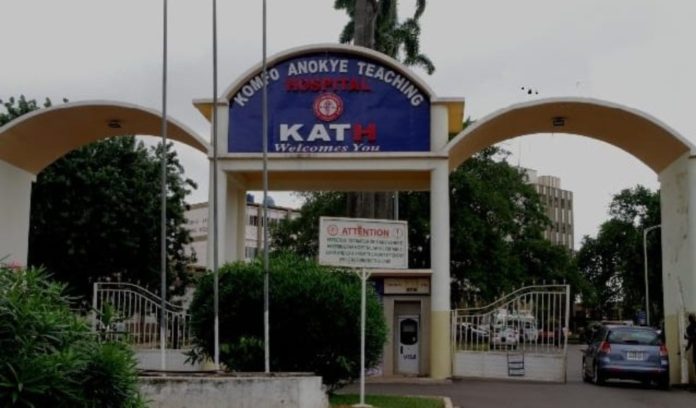 The management of the Komfo Anokye Teaching Hospital (KATH) has described as false the claim that the young man who was arrested at the hospital yesterday for passing himself off as a doctor had attended to patients at the facility.
In an interview, the hospital's Public Relations Officer, Kwame Frimpong said the suspect was accosted on the walkway behind the A&E Centre after his responses to questions about his identity and purpose at the hospital proved unsatisfactory.
"The suspect was not found in any of the service points at the hospital but accosted at an open space and could therefore, not be said to have attended to patients as being circulated" he added.
Providing further details, Mr. Frimpong said one of the directors at the hospital was on her usual rounds when she bumped into the suspect with a backpack and a stethoscope on a walkway behind the hospital's A&E Centre.
The suspect also had the name 'Dr. Williams Cyril Cohen' written on the scrub dress he was wearing.
It said when the director, questioned him about his identity and where he worked, his response was that he was only passing through the hospital to give something to somebody and quickly started to move away.
The PRO said the director become suspicious, raised an alarm and the suspect who was by then sprinting away was chased, arrested and handed over to the police.
Mr Frimpong indicated that, the hospital has a team-based system that oversees both in-patient care and OPD services and that once one is not a member of these closely-knit teams, one cannot assess or attend to patients at the various designated service points at the hospital.
"Again, the hospital has for some time now computerised its clinical operations and all patient care services are done through its Electronic Medical Records System (EMRS) accessible to only accredited members of staff using their unique passwords", he stressed.
He gave the assurance that, no assessment, diagnosis, reviews and prescriptions can be done for patients by a non-member of staff and therefore, the claim that the suspect had attended to, and administered medications to patients before his arrest was false.
Mr. Frimpong cautioned members of the public against dealing with anybody outside the accredited service points at the hospital.
"If anybody approaches you at undesignated places like the corridor, car parks, walkways and other open spaces, with the intention of helping you access healthcare, please ignore and report that person to the nearest security guard at the hospital", he concluded.
RELATED