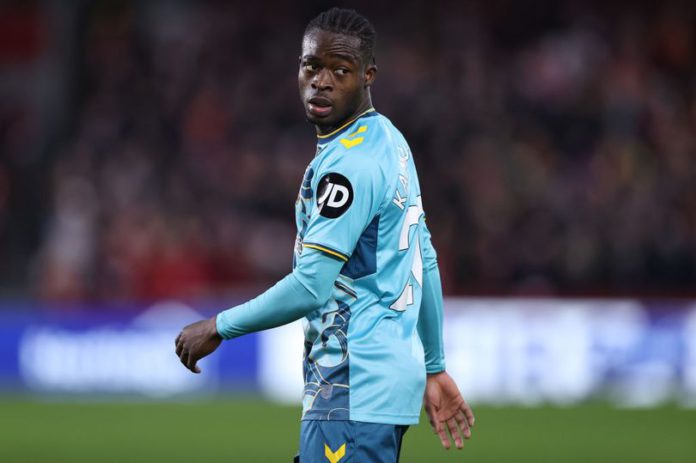 Southampton forward Kamaldeen Sulemana has opened up on it being "hard mentally" dropping in and out of the team despite taking on the pressure of being the club's record signing.
The 21-year-old suggested conversations held when he sought a move to the Premier League indicated he would play a bigger role – but there was a management change in the middle.
Kamaldeen arrived from Stade Rennes for a fee of around 25 million Euros on deadline day but manager Nathan Jones, who wanted power and potency, was sacked just 12 days later.
Kamaldeen remained in the team under Ruben Selles until being dropped following a 2-0 defeat to Brentford – with the Ghanaian then only starting four of the Premier League's final 11 matches.
The youngster returned to the XI on the last day of the season for the first time in a month and netted twice in a 4-4 draw with Liverpool, including a sublime solo goal.
"It might have been too late but I'm glad I finally have my goal, it's good for me," Kamaldeen reflected, speaking to the Daily Echo.
"When I came here that is what I wanted to do – set up goals and score to help the team to get results. Unfortunately, I wasn't able to do it but I got my goal.
"There's a feeling of, why didn't it come before, why didn't I score before? But I am glad I have made my mark on the last day and showed what I can do on the good days."
He added: "I would say that football can be very hard sometimes, especially with the situation we've been in – it's been the hardest.
"I want to play every game and that is the conversation we had and one of the main reasons I tried to move from France – to get game time.
"When I saw the situation I felt like I could help. That's why I came here but since I arrived it has been difficult with the game time, I don't start some games and have to come in from the bench.
"Sometimes it is based on my physicals, I didn't have enough playing time in France and the physios and coaches have tried to take care of me, but sometimes it has been tactical.
"It has been hard mentally to not play but I am still young and learning how to make a difference in the team and from the bench, and I have had both – this is good."
Kamaldeen was signed on deadline day alongside former Genk striker, Paul Onuachu, who has played even less of a role at St Mary's with no goals and just 11 league appearances.
But the money spent on Kamaldeen eclipsed Onuachu's £18million fee and the fee the club paid for strikers Guido Carillo and Danny Ings in seasons gone.
"Being the record signing of the club everyone expects a lot from you, especially when we are in a situation like this to come in," Kamaldeen said.
"Of course, I knew what the situation was and knew I could take the pressure. I believed that I could help the team but sometimes it works and sometimes it doesn't. The situation became hard, it's a learning stage for me and I will take it forward."
Sport Republic CEO Rasmus Ankersen, in a new interview with the Daily Echo, indicated the club intend on keeping some of their best talents this summer despite relegation.
Kamaldeen, however, was already a target of Premier League survivors Everton in the recent January window and will have alerted clubs to his presence with a timely final-day brace.
He insists he does not know where his future lies, admitting: "I'm going to take it from here, I have scored the goals to make my mark on the fans and I am happy on the last day so we will take it from there.
"My future is not in my hands, we don't know what the future holds. If I am here for the pre-season I will be here and will be ready to put all the hard work needed to bring Southampton back where it belongs."
Reflecting on the move to England, Kamaldeen added: "My life outside has been train, go home, train, go home. It has been strictly football. How to get better and how to improve the team, so I haven't really explored Southampton!
"When you have had a tough weekend it is hard to go outside and do other stuff so I have been strictly inside, focussed on what I have to do to play and to support the team.
"It is easier speaking English, when I arrived in France it was harder, in the beginning, to speak French and adapt but here I need no translation, you fit in the dressing room, you understand the tactics and everything.
"If you have to do anything by yourself, it is also easier. I would say life has been easier because of the English but also hard because of the football situation."