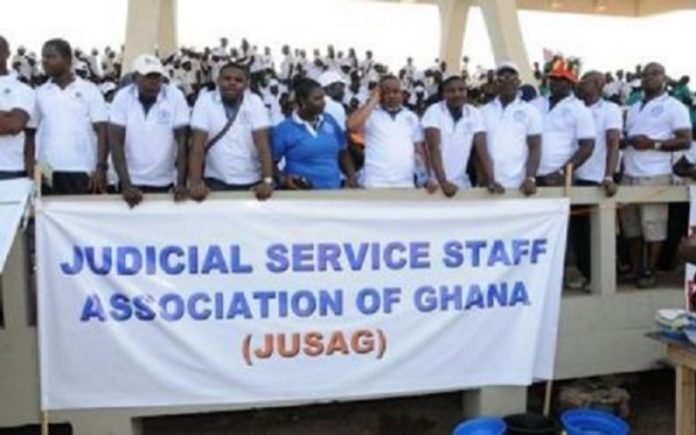 The Judicial Service Staff Association of Ghana (JUSAG) has threatened to go on an indefinite strike if a salary increase and arrears from January 2023 is not approved for them.
This was contained in a letter addressed to the Executive Secretary of the National Labour Commission.
The letter, signed by JUSAG's General Secretary, Abdulai Yakubu, states that the government has until Friday, May 12, 2023, to approve and implement reviewed salaries with all the arrears from January 2023, failing which the association will proceed with the strike.
The letter referred to a previous letter dated May 5, 2023, addressed to the President, which requested approval of the recommendation of the Judicial Council on the review of salaries and related allowances for staff of the Judicial Service in line with Article 149 of the 1992 Constitution of Ghana.
The letter also acknowledged the economic challenges in the country and the withdrawal of the Cost of Living Allowance in December 2022, but noted that members of JUSAG had shown patience for the past four months.
Judicial staff
JUSAG has reiterated its notice to the National Labour Commission, stating that if the approval is not received by the stated date, members will wear red armbands to work from May 15, 2023, for one week.
The letter further states that if no approval is received by May 19, 2023, JUSAG will embark on an indefinite strike. The association's leadership urged the President to act swiftly to prevent adverse consequences to justice delivery.
At the National May Day parade in Bolgatanga, Mr Yakubu, speaking through the Ghana News Agency, the JUSAG General Secretary called on the government to urgently review their salaries.
He pointed out that members of the Judicial Service, the third arm of government that provided critical services, were dissatisfied with their salaries, which had not been reviewed for two years and four months.
He emphasized that they had exercised enough patience and that the President needed to approve the new salary recommendation.