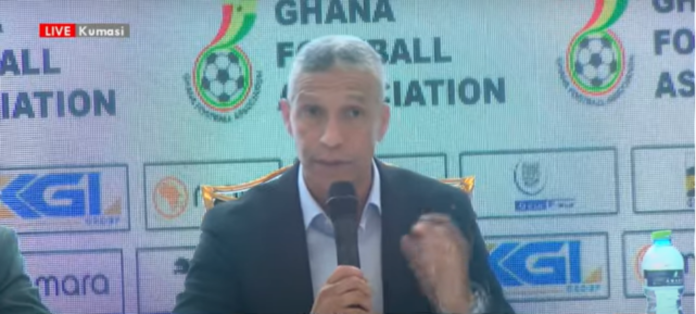 Newly appointed head coach of the Black Stars, Chris Hughton, has unequivocally said he cannot guarantee to steer the team to win trophies.
The 64-year-old has signed a year-and-a-half deal as the head coach of the team.
The senior national team has struggled to win any meaningful trophy with the last trophy being won in 1982.
The former Tottenham Hotspur and Newcastle United coach, however, has refused to assure he can lead the four-time African champions to end its 40 years and over trophyless jinx.
READ ALSO
"No coach can guarantee a trophy," he said at his unveiling in Kumasi on Monday (20 March). "No coach can sit at a table like this and promise you that. No coach can do that.
"It starts with qualifications and then you can know what to do but no coach can guarantee you a trophy.
"We have short, medium, and long-term objectives. In the short term, we want to win football games which will put us in a better position to extend the duration," he added.
Hughton was officially unveiled today in Kumasi.
His first game will be against Angola in a back-to-back game in the 2023 Africa Cup of Nations [AFCON] qualifiers this month.
Ghana will host the Palancas Negras at the Baba Yara Stadium on March 23 before travelling to Luanda for the reserve game in four days' time.
The former Brighton boss will be assisted by Didi Dramani and George Boateng.