A husband's Instagram post about loving his wife's "curvy" size has sparked a backlash online about body image and feminism.
American entrepreneur Robbie Tripp, who describes himself as "husband to a curvy goddess", posted a photograph of him and his wife, explaining in a popular post that becoming a feminist taught him that "curvy" women could be sexy.
"I love this woman and her curvy body. As a teenager, I was often teased by my friends for my attraction to girls on the thicker side," he wrote.
"As I became a man and started to educate myself on issues such as feminism and how the media marginalizes women by portraying a very narrow and very specific standard of beauty (thin, tall, lean), I realised how many men have bought into that lie."
"For me, there is nothing sexier than this woman here: thick thighs, big booty, cute little side roll etc."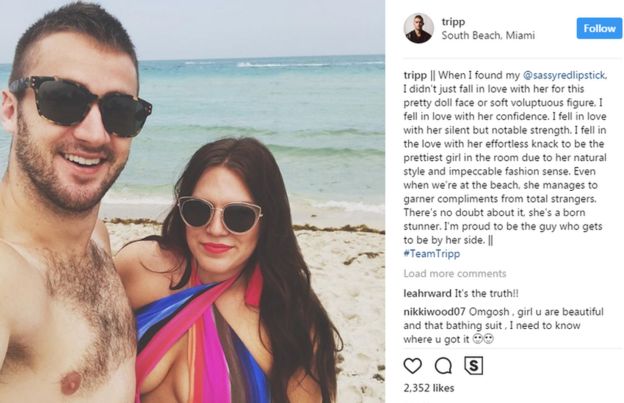 The post quickly attracted criticism online for suggesting that men be applauded if they prefer body types that do not fit the "tall and thin" look portrayed as conventionally attractive by popular culture.

strong contender for least fave type of male feminist is "man who thinks liking a curvy woman is revolutionary"
Journalist Julia Pugachevsky suggested, in a comment that has been retweeted 18,000 times since Friday, that feminism is not about being attracted to curvy women.
"Why do you think you're a modern saint because you date a normal sized woman?" asked @luciadraco.
"'I'm a feminist, I objectify women for completely different reasons than most of society'", Nate Cook on Twitter suggested was the real meaning behind Mr Tripp's post.
Others criticised Mr Tripp for suggesting that his wife is not a "normal" size and for objectifying women's bodies.

Its weird.. like you don't get awards for liking curvy women and finding curvier women attractive. He mentions it 24/7
"Um she isn't what I'd call big. My legs look like hers and I wear a size 10. I'd like to sub that as "average" and "normal," @christenlabell wrote.
Some women were much more blunt.
"I would dump a guy so quickly for patting himself on the back for having the audacity to date me," Kat Blaque wrote in a popular comment on Twitter.
But others defended Mr Tripp.
Instagrammer Amanda Fotheringham wrote: "I love this so much. I'm tired of people getting offended by everything and anything. This is a beautiful post and we need more men like you in the world.
Mr Tripp was also praised for his efforts to change the conversation about standards of beauty for women.
"Beautiful, sincere and as it should be. Real man and a real woman. Thank you for the statement of truth and giving hope to many," commented @lettistruluv.
"That's so awesome. If you change one man or woman's way of looking at others or themselves you have done an amazing thing," said @char514.