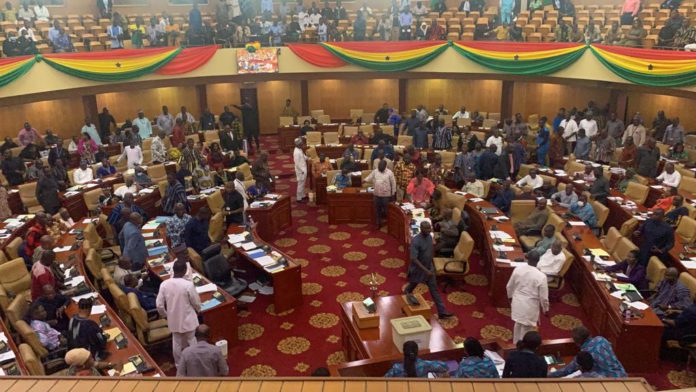 Members of Parliament finally approved President Akufo-Addo's six ministerial nominees after hours of disagreements.
The ministers-designate were approved on Friday amid some complaints which saw the sitting suspended for a few hours.
The Majority members feared they might not have the required numbers to approve President Akufo-Addo's nominees, while the Minority insisted they wanted the voting to proceed and damn the consequences.
However, after counting was done on Friday, the Speaker, Alban Bagbin announced the results in which all the ministers and a deputy minister nominee were approved by Parliament.
The Minority Caucus had earlier vowed to reject all the ministers, but this was not achieved as some National Democratic Congress legislators voted in favour of the nominees.
Check how the MPs voted below:
KT Hammond (Minister-designate for Trade and Industry)
154 YES votes
116 NO votes
1 rejected ballot
1 abstention
Bryan Acheampong (Minister-designate for Food and Agriculture)
167 YES votes
98 NO votes
4 rejected ballots
3 abstentions
Stephen Asamoah Boateng (Minister-designate for Chieftaincy and Religious Affairs)
147 YES votes
122 NO votes
3 abstentions
Mohammed Amin Adam (Minister of State-designate at the Ministry of Finance)
152 YES votes
117 NO votes
1 rejected ballot
2 abstentions
Osei Bonsu Amoah (Minister of State-designate at the Ministry of Local Government, Decentralisation and Rural Development)
149 YES votes
120 NO votes
3 abstentions
Dr. Stephan Amoah (Deputy Minister-designate for Trade and Industry)
146 YES votes
123 No votes
3 abstentions