Actress Nana Ama McBrown has revealed in an emotional interview how she rescued her right and after a gory accident four years ago.
In an "Restorations with Stacy" hosted by Stacy Amoateng, she explained that, after the accident, she could not feel her right hand only to find it hanging between her seat.
"I quickly pulled it, pushed back the broken bone and held my wrist to ensure I don't loose mobility in my fingers" she stated.
On Friday January 30, 2013 Ghanaian actress, Nana Ama McBrown, was involved in an accident on the N1 Highway in Accra. She survived the accident but sustained severe injuries.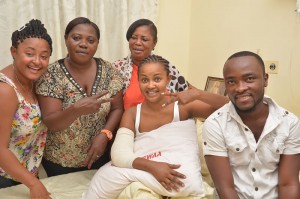 The actress-cum-producer together with her boyfriend Maxwell Mensah who was driving a Range Rover that fateful day [about 1am] were on their way back from location of a music video shoot with Hiplife group Praye when they skidded off the road.
Maxwell who did not sustain any serious injuries was treated and discharged on the same day, but McBrown who fractured her right arm stayed in hospital for more than two weeks.
Nana Ama McBrown has had two surgeries already and expecting to go through a third one. She still has a surgical steel in her arm.
"I'm still in pain because I cant hold a bucket of water  and it has affected my work because I have decided not to do some roles because of the hand" she bemoaned.
Years after the accident, Nana Ama McBrown has still not been able to forgive Praye especially Big J who never visited after the incident.
"Can you believe that after that night, I didn't see that short man who was giving me pressure to come shoot that video again and I have never set eyes on him? Eugene and his wife came to the hospital twice after that but Praye Tiatia, he never bothered. Meanwhile he was calling my phone every day for the shoot. That particular guy, I have told God that I don't want to talk to him and I don't want see him again in my life and I don't want to see him around me" she fumed.
Watch full video below