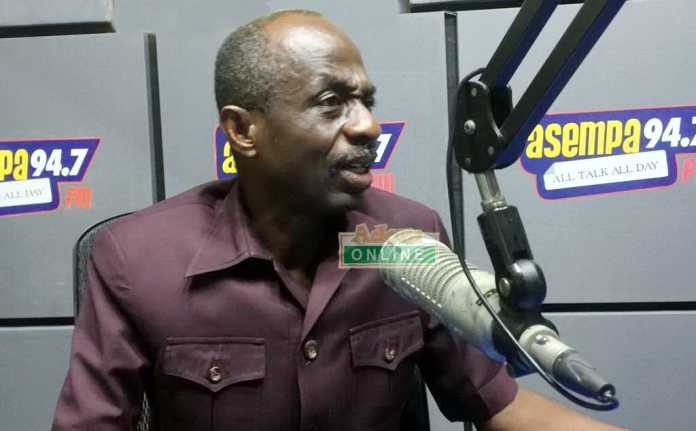 Mr Johnson Asiedu Nketia, the General Secretary of the National Democratic Congress (NDC), has rubbished media reports that he has been fined GH¢ 600.00 in a GH¢15 million defamation case brought against him by the Board Chairman of the Audit Service, Professor Edward Dua-Agyeman.
According to Mr Nketia, the court ordered Prof. Dua-Agyeman to rather pay the GH¢600.00 fine and could not fathom why the media reported what he described as lies.
READ ALSO: COPEC pledges legal support for driver, mate remanded for assaulting police
"I have not been fined by any court. It's a lie. The said amount was rather against Prof. Dua-Agyeman and not me. He is rather to pay me that money according to the court," he said on Neat FM monitored by Adomonline.com.
The defamatory suit is in connection with Mr Nketia's comments on radio which Prof. Dua-Agyeman said was intended to damage his reputation.
READ ALSO: Opanka The underrated rap gem
Mr Nketia accused Prof. Dua-Agyeman, who is a former Auditor General, of churning out "fake" audit reports based on which he was sacked.
According to counsel for Prof. Dua-Agyeman, without basis or probable cause, Mr Nketia "ostensibly sought to impugn the integrity, dignity and reputation of the plaintiff and to ridicule him in the eyes of right-thinking members of society."
However, after court proceedings on Tuesday, there were media reports that the presiding judge said Mr Nketia failed to enter judgment for over five months since the suit was filed.
READ ALSO: New regions will have highest calibre of staff – Local gov't head
The reports stated that lawyers for the plaintiff demanded a GH¢10,000.00 fine against the NDC General Secretary but the judge awarded a minimal cost of GH¢600.00.
Reacting to the reports, General Mosquito, as he is affectionately called, urged Ghanaians to disregard what he described as 'fake' news just to tarnish his image.
He said the issue is still in court and therefore would not make any further statement on the matter.
Source: Adomonline.com/Dorcas Abedu-Kennedy/E-mail: Ewuradjoakennedy@gmail.com