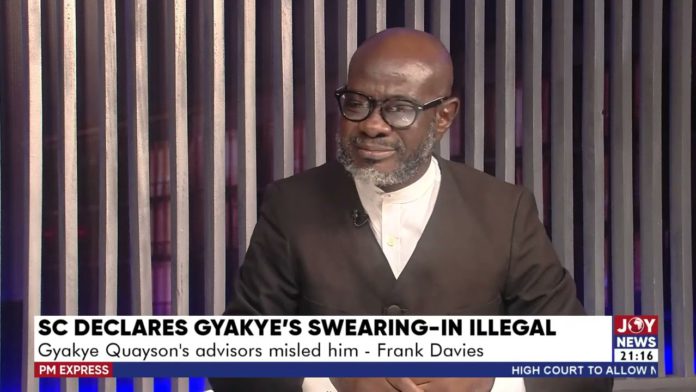 Chairman of the Constitution and Legal Committee of the New Patriotic Party, Frank Davies, says the advisors of the former Member of Parliament for Assin North, James Gyakye Quayson, had misled him.
According to him, it was ridiculous for Gyakye Quayson to think that merely because he had filed for a renunciation of citizenship at the Canadian embassy, he was eligible to file for nominations to become a parliamentary candidate.
He said the simple fact that at the time of nomination Gyakye Quayson had not received his certificate of renunciation made his nomination and subsequent swearing-in as MP for Assin North illegal.
"I think Gyakye Quayson himself does not understand what he did. And it was unfortunate that he was misled and misinformed by those who sort to advise him. The process of filing your nominations preparatory to your being a parliamentary candidate is not an event. It's a process. The EC opened the nominations from the 5th to the 10th of November.
"And the dictates are clear, that at the time you fill out the nomination forms you should be a Ghanaian, you should not owe allegiance to any other country than Ghana. Now Gyakye Quayson put in his application to renounce his citizenship sometime before October. But at the time he filled his nomination forms, his application was in process.
"He had not received his certificate of renunciation. So from the get-go he didn't qualify. It was only in November that he had his certificate of renunciation," he said on JoyNews' PM Express.
His comment comes on the back of the Supreme Court ordering Parliament to expunge James Gyakye Quayson's name from its records as a Member of Parliament.
Presiding Judge Justice Jones Dotse on Wednesday, May 17, ruled that the Electoral Commission (EC) acted unconstitutionally in allowing him to contest the 2020 parliamentary elections without proof of him renouncing his Canadian Citizenship.
The court in a unanimous decision ruled that Mr. Quayson was not qualified at the time of filing his nomination forms.
It further held that the EC allowing him to contest when he had not shown evidence of renunciation of his citizenship of Canada is unconstitutional.
It further declared that his election was unconstitutional, null and void and of no effect.
His swearing-in was equally declared to be unconstitutional with Parliament ordered to expunge his name from its records.
While the NPP have welcomed the ruling, the NDC say they are baffled by it.