President Nana Akufo-Addo has announced that Ghana's coronavirus case count has jumped to 8, 070 with 2,947 recoveries.
He said, the death rate remains 36, with 13 severely ill, three critically ill and one on ventilator.
He made the announcement during his 10th Covid-19 address on measures the government is taking to contain the deadly coronavirus.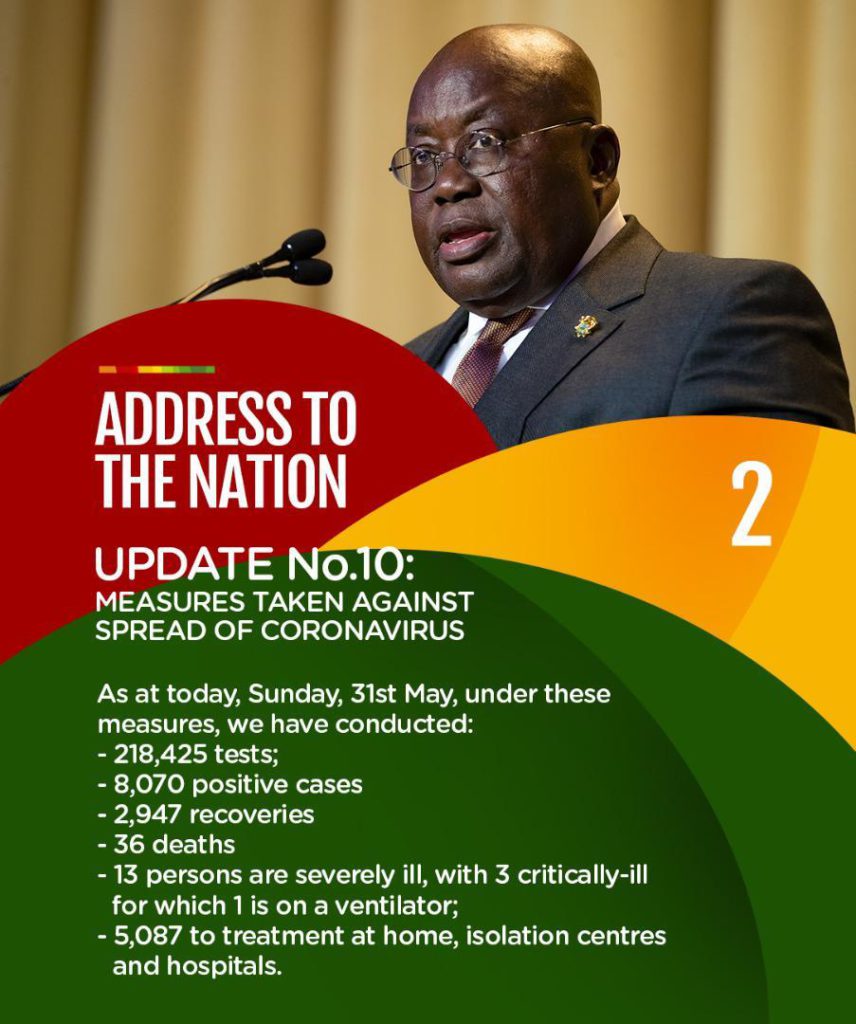 Warning
: simplexml_load_file(https://www.youtube.com/feeds/videos.xml?user=adomtvtube): failed to open stream: HTTP request failed! HTTP/1.0 404 Not Found in
/opt/bitnami/apps/wordpress/htdocs/wp-content/plugins/td-standard-pack/Newspaper/parts/single/loop-single-13.php
on line
89
Warning
: simplexml_load_file(): I/O warning : failed to load external entity "https://www.youtube.com/feeds/videos.xml?user=adomtvtube" in
/opt/bitnami/apps/wordpress/htdocs/wp-content/plugins/td-standard-pack/Newspaper/parts/single/loop-single-13.php
on line
89
Notice
: Trying to get property 'entry' of non-object in
/opt/bitnami/apps/wordpress/htdocs/wp-content/plugins/td-standard-pack/Newspaper/parts/single/loop-single-13.php
on line
92
Warning
: Invalid argument supplied for foreach() in
/opt/bitnami/apps/wordpress/htdocs/wp-content/plugins/td-standard-pack/Newspaper/parts/single/loop-single-13.php
on line
92

Warning: simplexml_load_file(https://www.youtube.com/feeds/videos.xml?user=adomtvtube): failed to open stream: HTTP request failed! HTTP/1.0 404 Not Found in /opt/bitnami/apps/wordpress/htdocs/wp-content/plugins/td-standard-pack/Newspaper/parts/single/loop-single-13.php on line 104

Warning: simplexml_load_file(): I/O warning : failed to load external entity "https://www.youtube.com/feeds/videos.xml?user=adomtvtube" in /opt/bitnami/apps/wordpress/htdocs/wp-content/plugins/td-standard-pack/Newspaper/parts/single/loop-single-13.php on line 104

Notice: Trying to get property 'entry' of non-object in /opt/bitnami/apps/wordpress/htdocs/wp-content/plugins/td-standard-pack/Newspaper/parts/single/loop-single-13.php on line 106

Warning: Invalid argument supplied for foreach() in /opt/bitnami/apps/wordpress/htdocs/wp-content/plugins/td-standard-pack/Newspaper/parts/single/loop-single-13.php on line 106