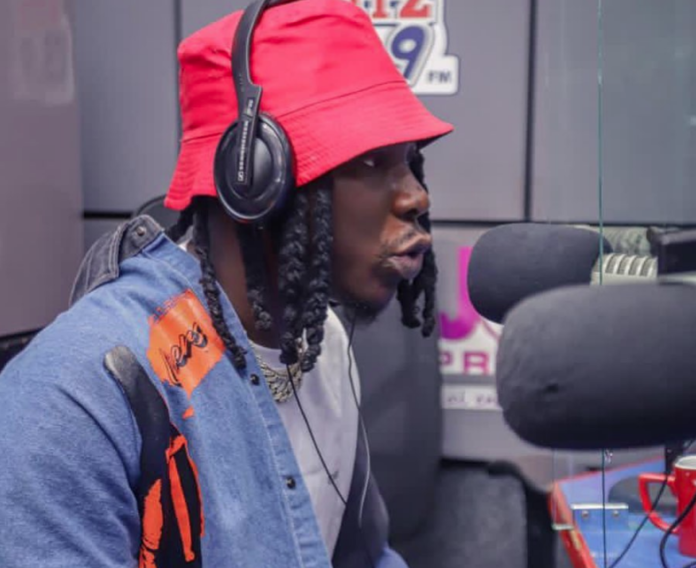 Reggae Dancehall Artiste, Livingstone Etse Satekla, popularly known as Stonebwoy, says his position on the galamsey menace is on the side of the people most affected by the devastation.
The musician who runs a foundation, the Livingstone Foundation, that has in recent times been constructing water facilities for communities whose water bodies have been contaminated by illegal mining activities, said he empathises with those affected and is moved to help alleviate their pain.
According to him, he believes that by contributing his quota through his philanthropic work he is being a citizen and not a spectator.
"Because look at the situation of the people in such communities, the water bodies that have been polluted and we all in Ghana drink water from natural water bodies, we don't conjure water from anywhere else. And when the majority of those water bodies are being polluted then it's only a matter of time we're all going to be importing water for all of us to drink.
"But those who live in those communities, closer to those communities are facing it firsthand. I saw on JoyNews two-three days ago that people are giving birth to babies without genitals, eyes and etc. owing to the chemical situations in their water, their food and etc. that is my stand on the problem," he said on PM Express.
Stonebwoy added that while he is not an expert in the matter and may not be able to suggest a solution to the menace, he believes that by "feeling the pain of our people" and doing something about it, he is helping make the situation better.
"I'm not coming to speak anything for anybody to get hurt; I don't even have the power to do such. I'm not a politician, I'm not an expert. But I am an expert, like Rawlings said, in feeling the pain of our people in the same way. This is a hungry child before and I can relate.
"So instead of us talking about the problem I think I would also want to not be a spectator like our President said, but be a citizen where I can use my voice, my little buck change that I get from creating music where I don't think I get really paid enough from the structures that exist in the nation, but I still make sure that I'm still able to actually do the do and not just be talking."
Stonebwoy who is currently promoting his wide acclaimed 5th Dimension album said it is about time mining companies both foreign and local up their game in relation to Corporate Social Responsibility to help develop the mining towns.
According to him, in other countries like South Africa and Australia noted for their mining activities, their major mining cities, Johannesburg and Perth respectively, are prosperous and well developed.
Same he said should be said of mining towns like Takoradi and Obuasi.
"In certain instances I think many people should be rushing from Accra to even live in Takoradi and Obuasi because of the standard of living owing to the fact that they are the areas where our natural resources are being mined."
MORE