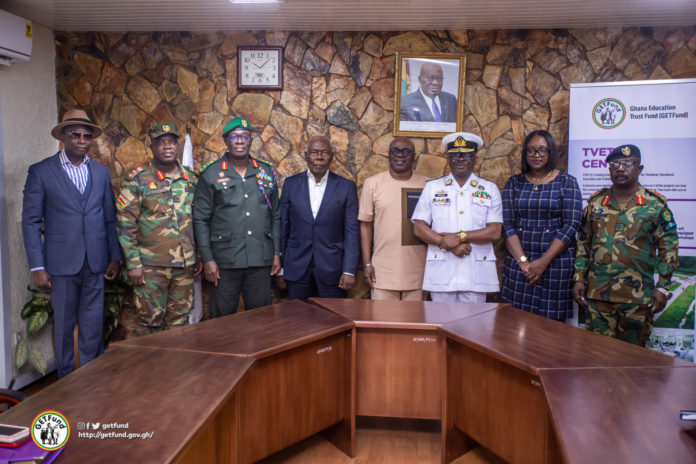 A high-powered delegation from the Ghana Armed Forces has visited the Administrator of the Ghana Education Trust Fund (GETFund), Dr Richard Ampofo Boadu.
The high-powered delegation, led by the Chief of Defense Staff (CDS), Vice Admiral, Seth Amoama visited the secretariat on Tuesday, 21 February 2023.
The visit comes on the back of President Nana Akufo-Addo's promise to establish a War College in Ghana.
The CDS explained it is routine for interested primary institutions to follow up in such situations to ensure the promise is brought to fruition.
Vice Admiral Amoama indicated the visit was also "an opportunity for us to rekindle the long-standing relationship that has existed between GAF and GETFund."
He further revealed that the vision is to commence a National Defense University (NDU) with the War College as one of its four key colleges.
On the part of Dr Boadu, he stressed the role of his outfit in the realisation of the proposed War College, by initiating the processes leading to full compliance.
"The promise by the President came at the right time as GETFund is still preparing its budget for the year 2023 for approval in March.
"Though our [GETFund] total receivables have been handicapped by the Capping and the Re-Alignment Act, we will use reasonable efforts to allocate funds towards this novel Strategic Defense College in Ghana," he noted.
ALSO READ:
Armed Forces Command and Staff College congratulates Asiedu Nketia
The administrator assured the GAF delegation he will put the discussions before the Board of Trustees of the Fund for consideration and necessary action as part of the 2023 Distribution Formula.
Speaking at the 2023 WASSA Games at Burma Camp in Accra, President Akufo-Addo announced plans to establish the war college expected to train military personnel in modern warfare and other strategies.
He explained GETFund has been tasked to provide seed money for the establishment of a War College in the country.