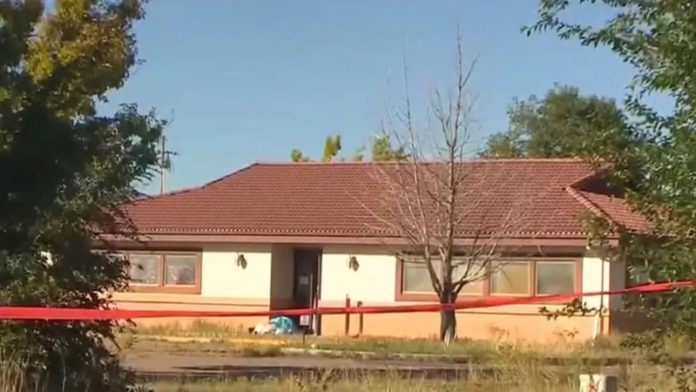 The owners of a Colorado funeral home are accused of giving fake cremated remains to some bereaved families, among other allegations.
Jan and Carie Hallford were arrested by authorities in Oklahoma on Wednesday.
Authorities found 190 sets of decaying remains last month in the couple's funeral home in Penrose, some dating back to 2019.
They are facing charges of abuse of a corpse, theft, money laundering and forgery.
Authorities began investigating the Return to Nature Funeral Home on 4 October after neighbours reported a foul smell spreading from the facility.
Investigators entered to find "abhorrent" conditions with dozens of stacked bodies, some of which had been there for years.
At a press conference on Wednesday, District Attorney Michael Allen said authorities would not be releasing many details in order to protect the ongoing investigation. He described the details of the case as "absolutely shocking".
Some relatives are also believed to have received fake cremated remains of their deceased loved ones.
"Law enforcement now knows the cremains each family was given could not have been their loved one," according to court documents obtained by the Associated Press.
Families have been contacted by the FBI and asked to give samples of the ashes they received for investigators to analyse.
"We will never know what our families are actually carrying. Some of them may be concrete dust, some of them may be other things," said Chrystina Page, whose son's body was among those found inside the funeral home, told the BBC's US media partner CBS.
"We won't ever know so I can't even describe the emotions our families are going through," Ms Page said.
Mr and Mrs Hallford are being held in jail on a $2m (£1.6m) cash bond.
Their arrest warrant said they are facing about 190 counts of abuse of a corpse, five counts of theft, four counts of money laundering and over 50 counts of forgery, all felonies.
They are scheduled for an initial court appearance on 9 November on a federal fleeing charge.
All decedents located at the Colorado funeral home were removed on 13 October and transported to the El Paso County Coroner's Office.
Fremont County Coroner Randy Keller said 110 bodies have been positively identified but that work continues to identify the other 80.
Mr Keller said corpses are being identified through fingerprints, dental records, medical hardware, and DNA testing "if necessary".
Colorado Gov Jared Polis released a statement following the Hallford's arrest: "I am relieved that criminal charges have been brought against the funeral home owner and a criminal investigation is proceeding.
"I know this will not bring peace to the families impacted by this heart-wrenching incident but we hope the individuals responsible are held fully accountable in a court of law."